What is Digital Out of Home (DOOH)?
Note: This post was initially published on our Medium blog. The article you are reading here has been updated to better reflect a post-COVID-19 world. 
Outdoor advertising and quarantine measures 
The truth is the global coronavirus pandemic has taken a heavy toll on the outdoor advertising industry. Traditional OOH has plummeted, with IAB estimating a -50% reduction in budgets going towards this channel. While Digital Out of Home has also been affected, it has seen less of an impact because of the relative ease of creating and planning new creatives.
Additionally, DOOH is also supported by ad-tech providing dynamic capabilities (such as Blindspot), allowing advertisers to quickly execute international campaigns based on the quarantine status. We've even worked with governments in order to use DOOH as a real-time channel and keep people informed with relevant statistics.
Simply put, if you're considering a DOOH campaign anywhere in the world, make sure you truly understand the context of each market. We recommend planning short-term campaigns so that you can easily adapt based on the global situation. We'd be happy to help, feel free to reach out.
Now back to the original topic…
What is DOOH?
Digital Out Of Home (DOOH) refers to any type of digital billboards used for advertising — be it indoor or outdoor.
This is the really short answer. Why you should care and why Digital Out Of Home can be perfect for your business, that's another story. We'll tell you all about it, no worries.
First things first:
Fun fact: the word "billboard" originally meant "any sort of board where bills were meant to be posted," 1845, American English, from bill (n.1) "written public notice".
Before DOOH, it was OOH, you might be more familiar with this term. It means Out Of Home. In advertising, this refers to all the billboards and panels that you can see outside your home. They can be any size, and their location can also vary: from interstates, airports, city streets, malls, or bus stations, but also advertising panels on taxies, buses, trains, in pubs, restaurants or other establishments.
Digital Out Of Home, DOOH, is OOH but all digital, of course, and it's the hottest trend on the market. The Interactive Advertising Bureau's Digital Out of Home Buyer's Guide defined DOOH from a single image electronic displays to full motion videos in a variety of formats, that can (but do not always) allow interaction via touchscreen, NFC, iBeacon, mobile phone, or other digital channels.
As you probably noticed, DOOH is everywhere, is fun, dynamic, catches the eye, and if done smart, catches the heart as well. In this day and age, there is a tendency to think that the online stole the show and all good adverting is made exclusively on the small screens (tablets and smartphones). The good news is that this is not true. OOH made a huge comeback with the help of Digital Out of Home, and the most prominent companies around the world are readjusting their budgets with an extra focus on it.
Why? The numbers speak better than words in this case.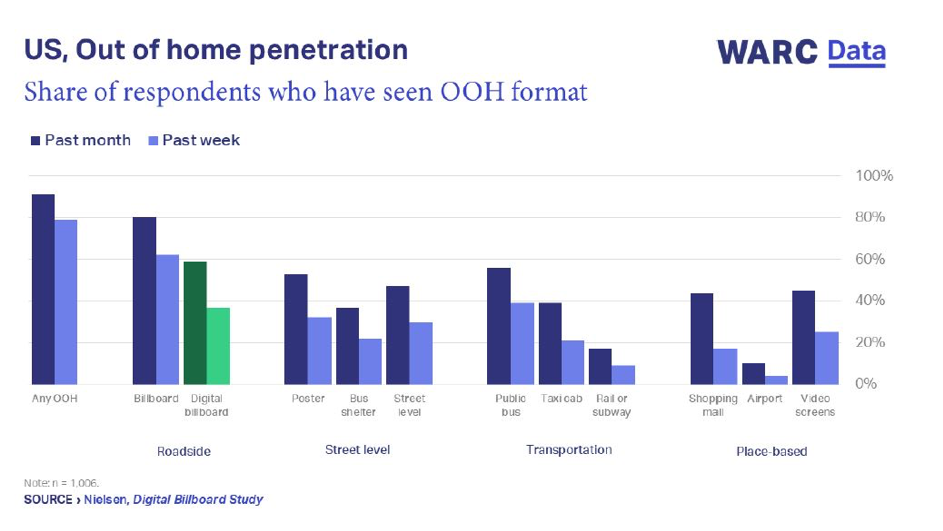 In a research made by Nielsen, the graphics show us that about 60% of Americans see a digital billboard each month. According to PwC's Global Entertainment and Media Outlook: 2017–2021, the DOOH market is projected to reach $5.1 billion by 2021 and will constitute nearly half of all OOH revenue in the US. In other markets, DOOH has already surpassed traditional outdoor advertising.
How to use DOOH properly for your business?
DOOH is so attractive nowadays due to the infinite possibilities that it offers to the companies that choose to use it. But this only happens if you consider these three things correctly: content, context, and screen type. Here is why:
Content
In the UK, an IPA's TouchPoints research reveals that about 92% of adults consume two or more different types of media in the same half-hour. So multi-screening is happening all the time. That means that content cannot be categorised according to the channel used to promote it, and the creative value is significant. Think about the story you are telling with your ad, how the consumer sees it on the phone screen in a social media post, and how it appears on a billboard.
Context
Match the content with the correct context as well. The story is continuing from one screen to another. DOOH is observed on the go, the moment of the day, season, weather, and other factors are essential to trigger an emotional response in the consumer.
Screen
The choice of the screen with the proper content in an appropriate context is another thing. Business owners need to see an adequate investment in displays that bring value to their product and brand. A video about a beer in a big square might not be extremely memorable, but an animated ad on multiple smaller screens in a pub, after work hours may just do the trick.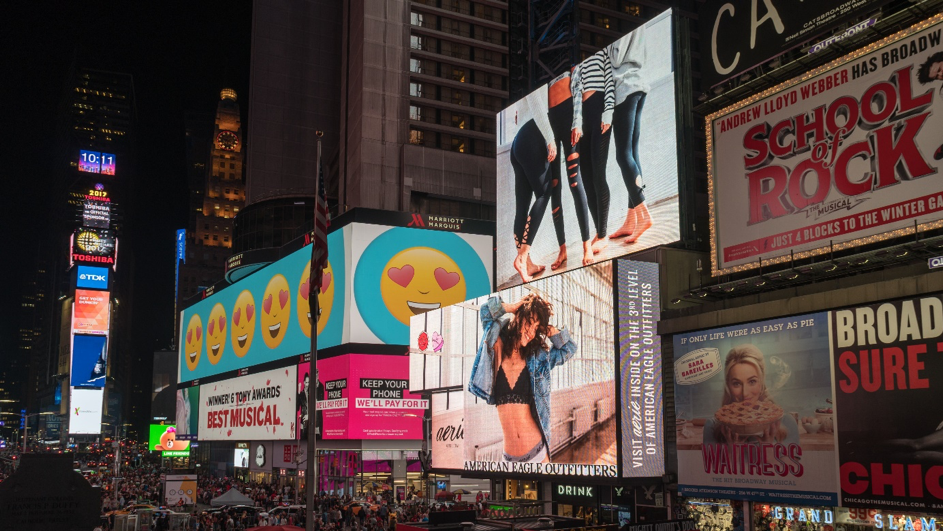 How to buy media with DOOH if you are a small business?
Microbuying and programmatic advertising are the answers. Media buying changed its ways as well, and all you need to do now is to upload your campaign on a platform that provides a vast number of screens available for your business worldwide, at a fraction of the usual cost. It only takes a minute to set-up a campaign, and you can do it yourself, no need for an expert here. You have different screens and timeslots available, so you can have your campaign up and running within your budget, no matter how big or small your company is. It's an ideal way to experiment with this channel for your business!
Tracking Results with DOOH
Blindspot offers a variety of ways you can measure how your DOOH campaign influenced your sales and business results. The standard report that every screen has includes ad plays, meaning we will always monitor how many times your ad was shown on the screen and correlate it with your planned campaign. If the ad plays are underdelivered, the network is informed to prolong your campaign so you get the reach you paid for.
On a more complex level, depending on each screen location and the type of integration you have with Blindspot, reports can be generated based on:
Age and Gender of people exposed to your DOOH ads (based on real time camera impressions or from mobile data partners)
Dwell time (based on real time camera impressions)
Consumer profile and behaviour (based on aggregated mobile data from location intelligence partners)
Car type and car traffic (based on real time camera impressions or from data partners)
Website traffic behaviour (based on Blindspot integration with your web analytics service such as Google Analytics)
Footfall traffic increase (based on aggregated data from location intelligence partners)
Retail or online sales (based on CRM/DXP integration)
These are just a few examples of the type of data Blindspot works with in order to correlate campaign performance to actual business results. While Blindspot is making efforts to standardise data offerings and make them available for any type of client, some of these data sets are only available on demand and based on a bespoke integration.
Flexible Budgets on DOOH
Traditionally, OOH was bought through large budgets and long term commitment, as well as a lot of negotiation on top. This meant that companies that did not have these previous relationships could not competitively buy OOH without being forced in long term deals. Doing micro-campaigns at competitive rates was virtually impossible.
With Blindspot, prices are equal and transparent for everyone.
Regardless if you're already spending on OOH and looking to optimise DOOH budgets or if you're trying it out for the first time, Blindspot offers tools to improve your campaigns and results.
Flexible timing. Flexible location. 
Another traditional entry barrier is that if you want to test multiple locations at the same time, you have to discuss with multiple media owners and make sure you're getting the same kind of deal from both companies. Unless you're a large media agency, that's almost impossible.
Blindspot allows you to book cross-network screens as easy as buying competing products online. The price you see is the price everyone gets, no exceptions.
Learn more by creating an account on the Blindspot platform, which can be accessed here.
We recommend considering 3 key aspects to make the most out of your Digital Out of Home campaign:
1. Custom creatives for various contexts (day, night, weather) – with dynamic tech like Blindspot provides, even your own data (such as website traffic behaviour) can be a trigger for what type of content you show on screens
2. Adaptive message for each screen location (transit, interstate billboard, mall totems etc.)
3. Complimentary online campaign with a clear CTA (discount or other benefit) to capitalise on the interest generated by digital screens
To recap, make your first DOOH campaign a success considering these aspects:
– Consistency — This is again about the story that we were telling you before. Make sure is the same story, adapted to the context and screen
– Display — There are other displays out there, not only billboards. See the list when you sign up and choose wisely
– Info — Make sure that you communicate real information about your business, that is representative and makes you stand out in the crowd.
The future of DOOH is bright, so make the most of it and use it for your business. Blindspot is a platform that already connects over 1 Million screens in the US, Europe, MENA and APAC regions.