In the dynamic landscape of digital marketing, it is crucial to capture your target audience's attention effectively. One proven method for achieving this is by leveraging the power of digital billboards in Kansas City. These eye-catching advertisements enable you to engage a broad audience, spark interest, and leave a memorable imprint on potential customers.
Recognizing the potential of billboard advertising, Blindspot has developed a user-friendly Digital Out of Home (DOOH) platform, seeblindspot.com. This cutting-edge platform streamlines the process of reserving digital billboards programmatically, empowering businesses of all sizes to take charge of their advertising campaigns in Kansas City. Continue reading to discover more about the advertising opportunities in Kansas City and how the Blindspot platform can assist you in making a lasting impact through digital billboards.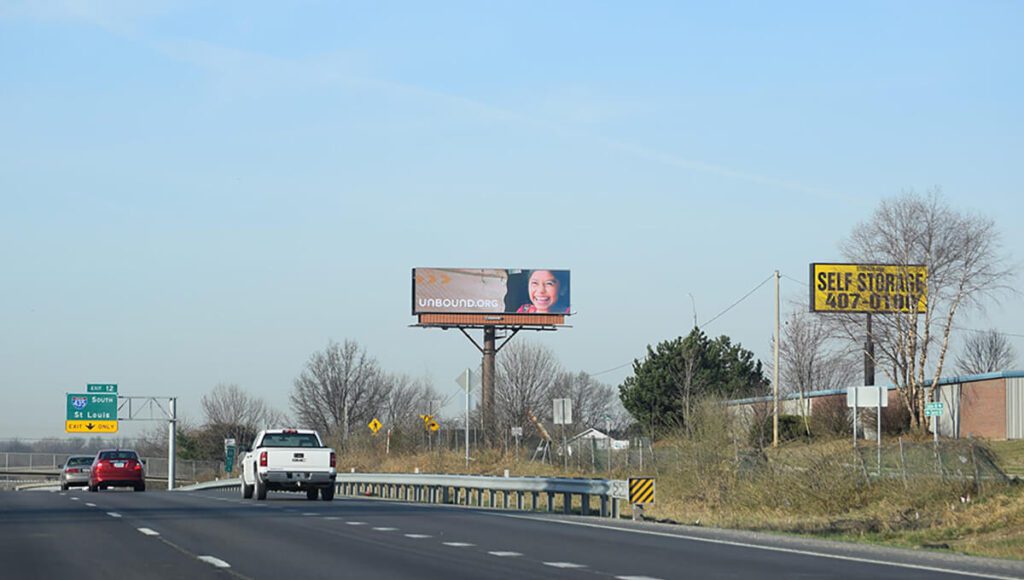 Kansas City Billboards: The Advertising Landscape
Kansas City is a growing outdoor billboard advertising market, with a vast range of opportunities for businesses to connect with their target audience. From bustling downtown areas to busy highways, digital billboards can be found throughout the city, ensuring maximum exposure for your company or brand.
A quick overview of Kansas City's advertising market:
Kansas City, with a population of over 509,319 people in the metropolitan area, makes it an ideal location to reach a wide audience for your business.

The city has a diverse economy and major industries like healthcare, manufacturing, and technology.
The benefits of advertising in Kansas City:
High visibility: Digital billboards are strategically positioned in high-traffic locations to give your ads the most exposure possible.

Targeted messaging: With digital billboards, you can tailor your message to appeal to particular demographics, making sure that your advertisements are noticed by the right people at the right time.

Flexible scheduling: Real-time changes are possible with digital billboards, allowing you to swiftly and effectively modify your campaigns.
The types of digital billboards available in Kansas City:
Standard digital billboards: These large, eye-catching displays are perfect for showcasing your message to passing motorists and pedestrians.

Digital totems: Smaller than standard billboards, digital totems offer a cost-effective option for businesses with a smaller advertising budget.
Billboard Advertising in Kansas City: Why It Matters
Billboard advertising plays a significant role in raising brand visibility and awareness. By utilizing digital billboards in Kansas City, you can create a lasting impression on potential customers and increase your chances of success.
The impact of billboard advertising on brand visibility and awareness:
Studies show that digital billboards can increase brand awareness by up to 47%.

Digital billboards offer 24/7 exposure, ensuring that your message is seen by potential customers day and night.
Success stories from local businesses using digital billboards:
A local restaurant used digital billboards to advertise their grand opening, resulting in a 20% increase in foot traffic during the first week.

A Kansas City-based tech company utilized digital billboards to promote their new app, leading to a 30% increase in downloads within the first month.
Stay tuned for more insights on how to rent billboards in Kansas City using the Blindspot platform and understanding the costs associated with billboard advertising in the city.
Renting Billboards in Kansas City: How Blindspot Makes It Easy
Combining outdoor digital billboards in Kansas City with your digital marketing campaigns has never been easier thanks to our self-service DOOH platform from Blindspot. Seeblindspot.com makes it a breeze to book digital billboards and gives you greater control over your advertising efforts.
The advantages of using seeblindspot.com for billboard rentals:
Easy-to-use platform: The intuitive interface makes it simple for businesses to find and book digital billboards that match their needs.

Programmatic booking: Benefit from real-time bidding and data-driven decisions, optimizing your advertising efforts.

Flexibility and control: Customize your campaigns by selecting the duration, location, and specific time slots for your ads to appear.
How to get started with Blindspot:
Visit seeblindspot.com and create an account.

Browse available digital billboards in Kansas City, filtering by location, size, and budget.

Create and upload your advertisement design or choose from a selection of pre-designed templates.

Set your campaign parameters, such as start and end dates, and desired time slots.

Launch your campaign and track its performance using the platform's built-in analytics tools.
How Much Does a Billboard Cost in Kansas City?
The cost of renting a digital billboard in Kansas City can vary based on several factors, such as location, size, and duration of the campaign. However, with Blindspot's platform, you can find options that suit your budget and advertising goals.
Factors affecting billboard pricing in Kansas City:
Location: High-traffic areas with greater visibility, such as downtown or near highways, may command higher prices.

Size: Larger

billboards generally cost

more than smaller digital posters.

Duration: Longer campaigns may offer discounted rates compared to shorter-term bookings.
Price range and options available through Blindspot:
Digital posters can start as low as $500 per week, while larger digital billboards may range from $2,000 to $5,000 per week or more.

The platform offers real-time bidding, which allows you to find the best deals based on your budget and desired locations.
Tips for maximizing your advertising budget:
Choose strategic locations that target your desired audience effectively.

Opt for longer campaigns when possible to take advantage of discounted rates.

Monitor your campaign's performance and adjust your strategies accordingly to optimize results.
The works we are proud of