What you need to know about the NASDAQ billboard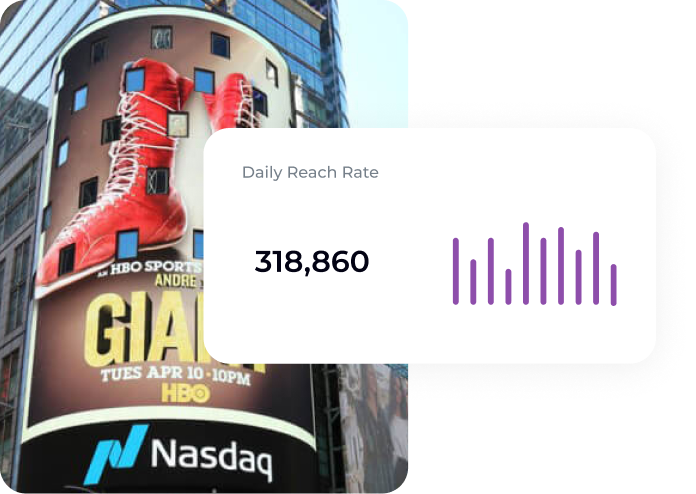 Pricing is dynamic and is one of the most popular billboards to be on. Make an account now and book it.
Nasdaq's resolution is 1832 x 2336 and it supports both video (.mp4) and static (.jpg). When you create a campaign, you will find a template that helps you navigate around the famous windows.
Over 13.000 people will be exposed to your message on average per hour.
The Nasdaq billboard supports both static and video content.
Times Square is one of the busiest places in the world, regardless of time or day
A lot of brands are advertising in Times Square. Make sure your creative is powerful and memorable.
You can pick any timeslots you want. Make sure you run the right message at the appropiate time.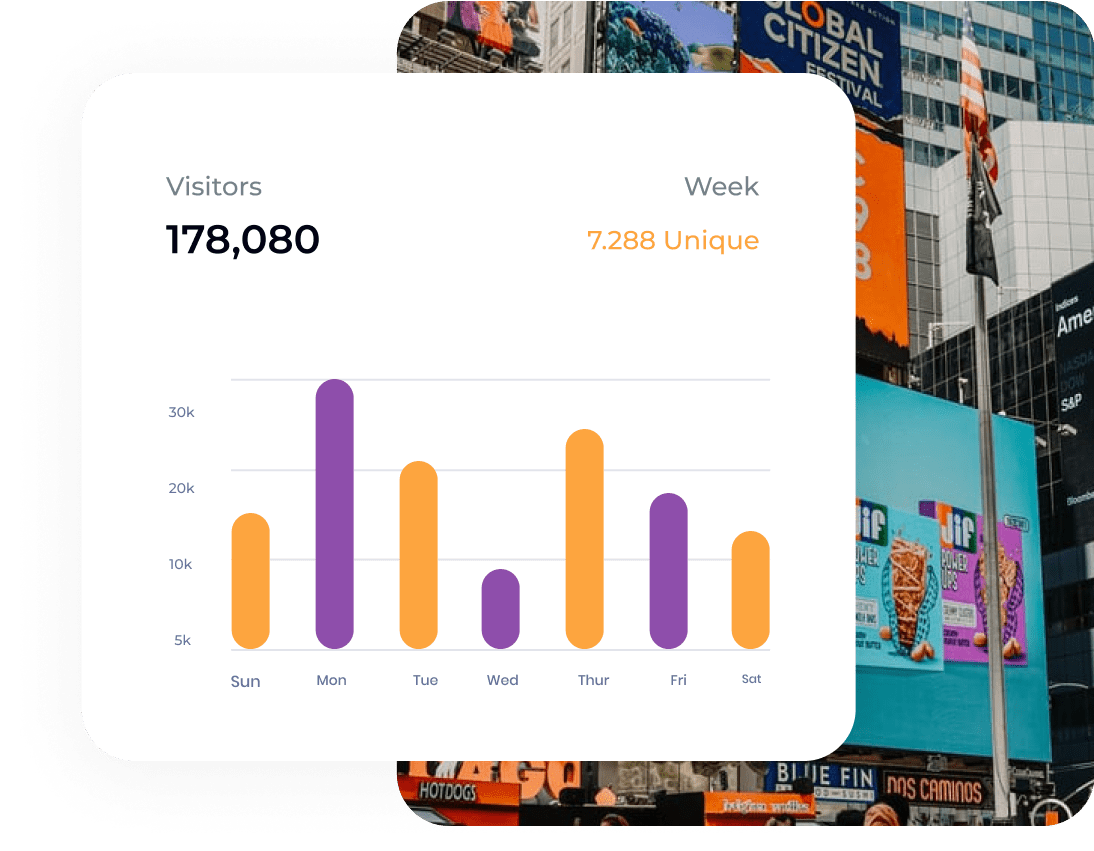 Benefits of advertising on the NASDAQ billboard
The Nasdaq billboard is an iconic location in Times Square. Famous companies have advertised here and announced legendary moments in history.
Please consider that every billboard has certain content restrictions or limitations that can be viewed on our platform.
Trust building
Your ad is in GREAT company. Some of the most famous brands and companies advertise on Nasdaq.
Immense reach
Because of its placement and unique format, the Nasdaq billboard stands out in the crowd
Livecam
You can watch your content live by searching for "Nasdaq live cams".
How much does the Nasdaq billboard cost?
Less than you might think. Even lesser! Don't believe us? Create a free account on our platform and see for yourself.
How big is the Nasdaq billboard?
Approximately 10.000 square feet and seven stories high that makes it a massive, impressive display and one of the most popular digital billboards in Times Square.
Where is the Nasdaq billboard located?
It's located in New York City, right in the heart of ad central, Times Square.
Always know the exact pricing based on hourly slots, impressions and number of plays.
Get your ad up on the screen in just a few easy steps, no back and forth or lengthy process
Blindspot's automated process makes it easy and painless to go live on the Nasdaq billboard
Browse other famous locations
What our clients think about us