Digital billboards in London – affordable and effective advertising
London is an exciting and vibrant city, full of culture and history. It's also a great place to advertise your business due to its large population, diverse neighbourhoods and iconic landmarks. But while traditional forms of advertising such as flyers, billboards and radio adverts are still popular in the city, digital billboards in London offer a more affordable and effective way to reach your target audience. Let's have a look at the benefits of using digital billboards in London for your next marketing campaign, discuss why they're so cost effective and explore some creative ways you can make the most of them.
So, if you're looking for a way to get your business noticed and reach potential customers, digital billboards in London may be the answer. Read on to find out more!
London billboards
In today's competitive marketplace, businesses are always looking for new and innovative ways to reach their target audiences. One of the most effective and affordable ways to do this is through digital billboards in London.
Digital billboards allow businesses to create dynamic, eye-catching displays that are visible from long distances. The screens can be used to showcase a company's products or services, advertise special events, share important news and announcements, or simply display vibrant visuals and artwork to appeal to passersby. Additionally, digital billboards are able to show multiple messages throughout the day or week depending on what is most effective for a business.
London has many prime locations for digital billboard advertising across the city, including popular shopping hubs, tourist attractions and commercial districts. When considering placing an ad on a London billboard, businesses should consider the location carefully in order to maximize their visibility and reach their target audience.
Digital billboards are a great way to reach a large number of people in a short amount of time. They are also very cost-effective, as you only need to pay for the advertising space for the duration that you want your ad to be up.
Overall, London billboards are an excellent way for businesses to reach a large audience in an effective and affordable way. If you're looking for an effective and affordable way to advertise your business in London, then digital billboards should definitely be at the top of your list!
Billboard advertising in London
With a variety of sizes and locations available, businesses can find the perfect spot to advertise their product or service. Digital billboards allow businesses to change their message frequently, making them more versatile than traditional billboards. London is a highly populated city with a variety of people from all walks of life, so billboard advertising can be tailored to reach different demographics. Companies can choose billboards in areas they know their target audience will see them, such as near shopping centers or other popular attractions.
Businesses looking for an affordable and effective way to reach a wide audience should consider billboard advertising in London. Whether you're a small business or a large corporation, billboard advertising in London can help you get your message across to your target audience.
Why is London billboard advertising a great and efficient approach
London billboard advertising is a great and efficient approach because it provides an effective way to reach large numbers of people in the city at once. It is also cost-effective, as it does not require ongoing maintenance costs or staff to manage campaigns. This makes it an ideal medium for promoting events, products, services, or campaigns on a large scale. Additionally, billboards can be seen from far away and are memorable due to their size and impactful visuals.
Overall, London billboard advertising is an evergreen solution for businesses to reach their public, gain awareness and notoriety and increase their revenue.
How do audiences in London interact with outdoor advertising
 Audiences in London interact with outdoor advertising in a variety of ways. Some people simply look at the ads without giving them much thought, while others may be interested in learning more about the product or service being advertised. Additionally, some people may make a purchase as a result of seeing the advertised product or service. 
Moreover, some people may engage with the interactive elements of the ads, such as QR codes or augmented reality experiences. Others may take pictures of the ads to share on social media, or use them as backdrops for their own photography and videos.
How much do a billboard cost in UK
Digital billboards are extremely popular with businesses of all sizes and there are a number of different ways to book them. The cost of digital billboards varies depending on a number of factors, including the location, size, and duration of the booking. However, as a general guide, prices start from around £500 per week or even less.
This cost can be reduced further by booking several weeks or months in advance, as many companies offer discounts for longer bookings. Additionally, if you have a specific location in mind, it might be possible to negotiate a discount either with the billboard owner or the outdoor agency you're working with.
Great advertising locations in London
London is a bustling metropolis with a lot to offer businesses looking for great advertising locations. Digital billboards can support you to reach your consumers in London, and there are many prime locations available.
Some of the best places for digital billboards in London include:
Waterloo Station – one of the busiest train stations in the UK, that has nearly a hundred million people in traffic estimated in a year. Having an ad play here is definitely a recipe for success. Think of the potential this digital billboard has playing your ad on it. Through our platform, you can book this great screen at very accessible prices for everyone.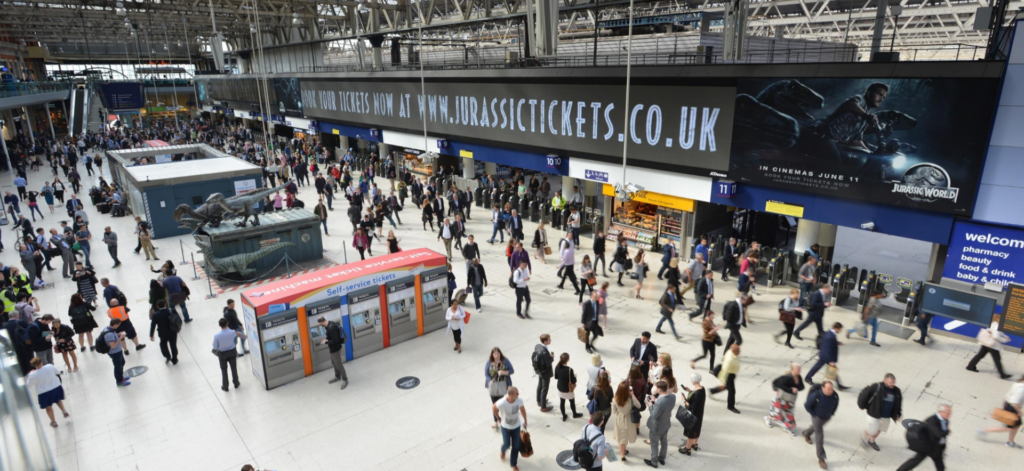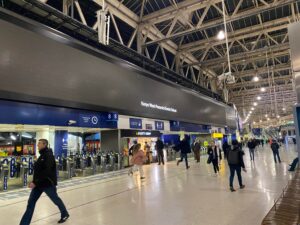 Piccadilly Circus – One of the busiest and most iconic intersections in London, Piccadilly Circus is a great place to advertise. The high foot traffic and vibrant atmosphere make it perfect for grabbing attention.Discover this amazing billboard at special prices only on our platform.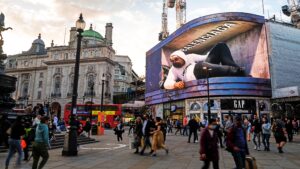 You can discover more spectacular billboards all over London on our platform such as those presented below that can go from approximately 2$/hour ( prices are dynamic, minimum booking time may differ from screen to screen).
Euston Road Underpass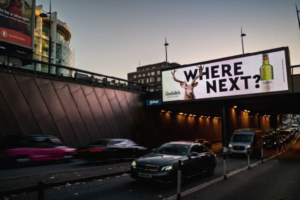 The Eye, Proctor Street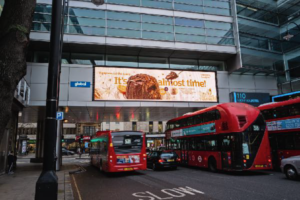 Vauxhall Cross Island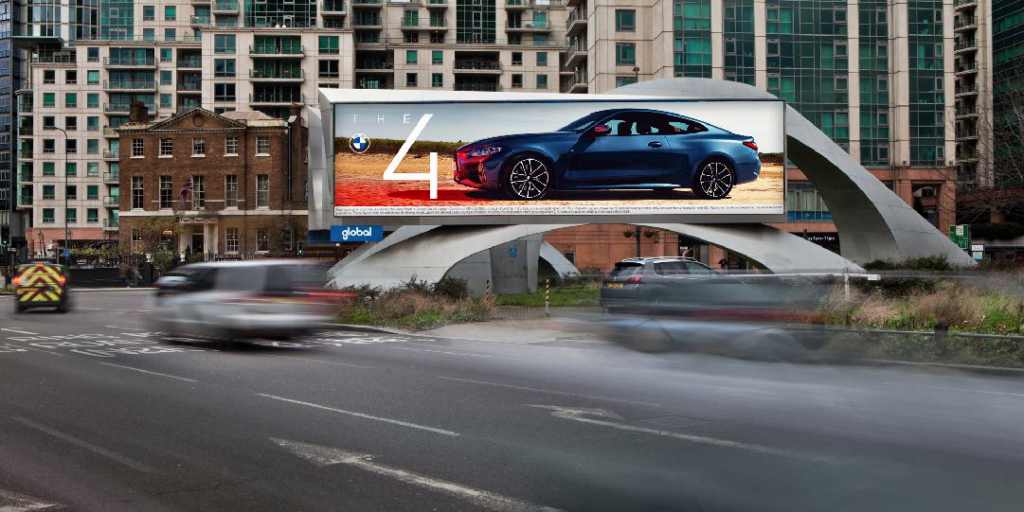 Leicester Square:

Another popular tourist spot, Leicester Square is surrounded by theaters, restaurants, and hotels. This makes it ideal for targeting both locals and visitors.

Oxford Street

: One of the busiest shopping streets in London, Oxford Street is lined with retail stores, making it ideal for reaching consumers who are already in a spending mindset.

Trafalgar Square

: A major landmark in London, Trafalgar Square gets a lot of foot traffic from tourists who come to see the famous Nelson's Column. It's also a popular gathering spot for events, so businesses can take advantage of that by promoting their products or services during these times.
Covent Garden: Covent Garden is one of the most popular tourist destinations in London. With its mix of art galleries, shops, restaurants, and theatres, it's a great place to advertise.
These are just a few of the many great advertising locations in London. Whether you want to reach locals or tourists, digital billboards can be an effective and affordable way to do so. Book your next DOOH campaign in London with Blindspot!