Digital billboards in New York – now affordable for everyone with Blindspot
Updated on September 14, 2022
Digital billboards in New York – everything you need to know
Iiin Neeew Yooork! –

– There are a lot of digital billboards!

There is no better place in the world to think about outdoor advertising other than New York. All the iconic advertisements, Times Square, big brands, and flashing lights make New York an outdoor ad platform.

With the iconic Madison Avenue and the "Mad Men" branding New York as "the ad-city," you'd come to think that getting a billboard in New York to advertise your brand would be something you can only dream of if you're not a big or important brand. Well, you might be surprised to find out that it isn't the case anymore.

Read on, and we'll take you on tour through New York's billboardscape to show you what's what and how much.

It's TIMEs²(-d)

If you didn't get it, this section is all about Times Square.
You've seen them. They're up on the facades of all the high street shops and famous buildings. Digital billboards that deliver a message to anyone within their LOS (line of sight) and capture attention like nothing else!

It's probably the most iconic location for outdoor advertising in the world, and it can ring a bell even to the most unfamiliar of people with advertising or New York. 
It's outdoor advertising and digital-billboard central since it's such a busy place where people from all walks of life pass around every day. According to statistics from Outfront Media, using outdoor advertising in New York can help you reach up to 99% of the population weekly.
All the big brands compete for a spot in Times Square, bringing out their top creatives and messaging to engage the crowds that are passing by. You can basically imagine a gladiator arena where everyone gets their turn to show off their muscles and skills. However, only those who truly shine will get the crowd's attention because the place is packed with screens and many messages displaying simultaneously.
Top billboards available for everyone?
You might be tempted to think that getting your brand up onto a billboard in New York will cost you a fortune. While that may have been true in the past, nowadays, technology is opening up digital billboards to all companies, not just big brands.
Woah, wait a second… So you don't really mean to say that those Times Square screens can be accessible to any kind of company?
Wanna bet?
What you see below is one of the most famous screens in New York's Times Square, Thomson Reuters(available from October 2022). Create an account on our platform and see for yourself how easy and accessible is to book it.
Thanks to our neat tool, Blindspot, we've opened up the outdoor advertising market and allowed any kind of company to enter the game by enabling accessible hourly buying.
*Scratches head*
It's something that can be pretty mind-boggling at first, but we guarantee there's no B.S. involved whatsoever. In fact, you can create an account right now, free of cost, and see our New York billboard selection for yourself.
Let's take a look at another neat example from our bag o'billboards. Below you'll see another screen that sits comfortably atop Astoria Boulevard, providing drivers with an incredible sight as they cruise by their daily routes.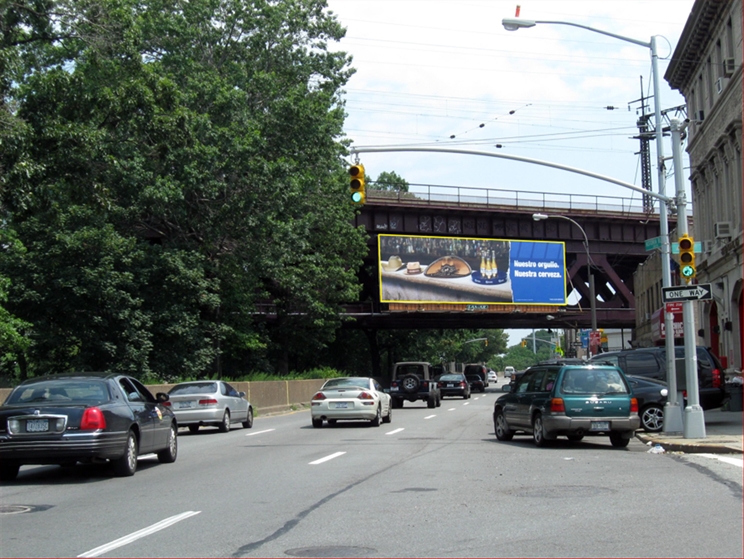 Wouldn't it be great to have your ad flashing over there at a fraction of the regular bulk-media price? You can place your ad here starting from only a couple of dollars. Sign-up on our platform and see for yourself.
Times Square "most-wanted" billboards
#1. The Thomson Reuters billboard
(available from October 2022)
Is one hell of a display beast. Standing tall next to Times Square One, the famous digital billboard that you've seen in every New Year celebration, a 30,000 square feet of HD LED video screens and sky-high displays, this billboard is a guaranteed way to attract attention and make a statement. And now you can book it on our platform very fast!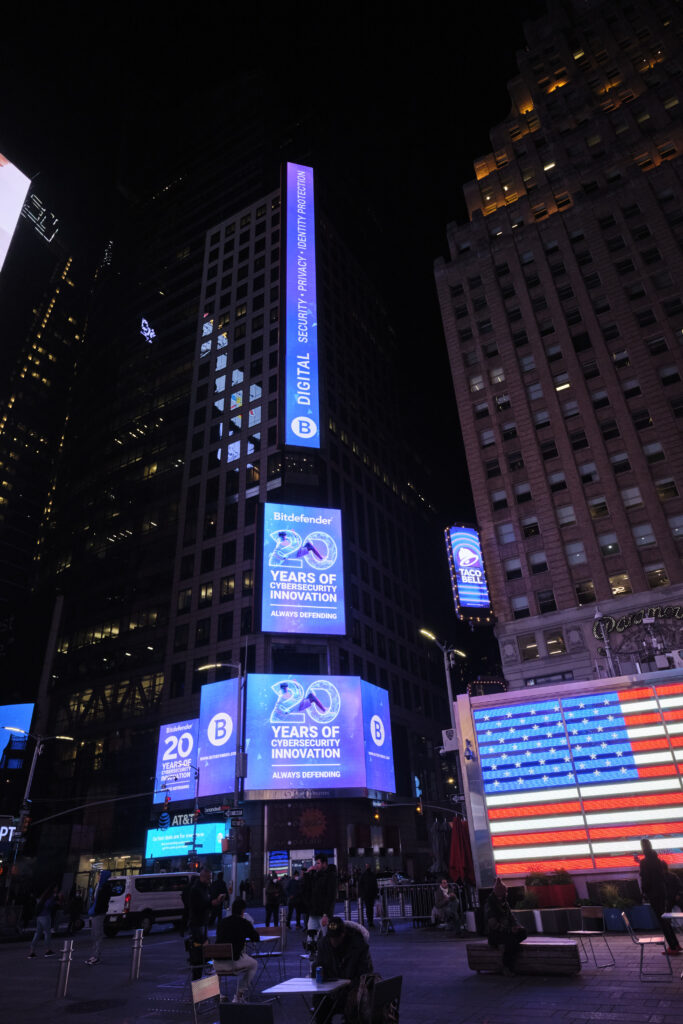 #2. The Nasdaq LED display
Is another example of jaw-dropping-class digital displays. Standing at over seven stories tall, the Nasdaq LED attracts the eyes of all that pedestrian traffic that goes in and out of the USA's number 1 tourist attraction. You could have your ad run up there in no time through our platform. Check for yourself here.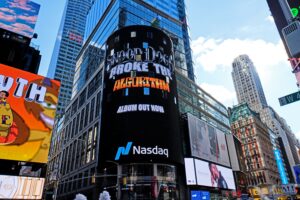 #3. Times Square One
Is probably the most known digital billboard in the world. This is where the New Year's Eve "Ball Drop" happens every year and has become a focal point in the capital of billboards. Boasting 310 foot tall LED, this spectacular display is designed to make sure you send a statement that won't soon be forgotten. This screen is available for daily booking, not hourly. It reaches tens of millions of people each day and thus making it one of the most expensive displays we have connected in Times Square. But think of the impact you could make on such a monstrous screen. You can create a free account through our platform and book such a screen in only a few minutes.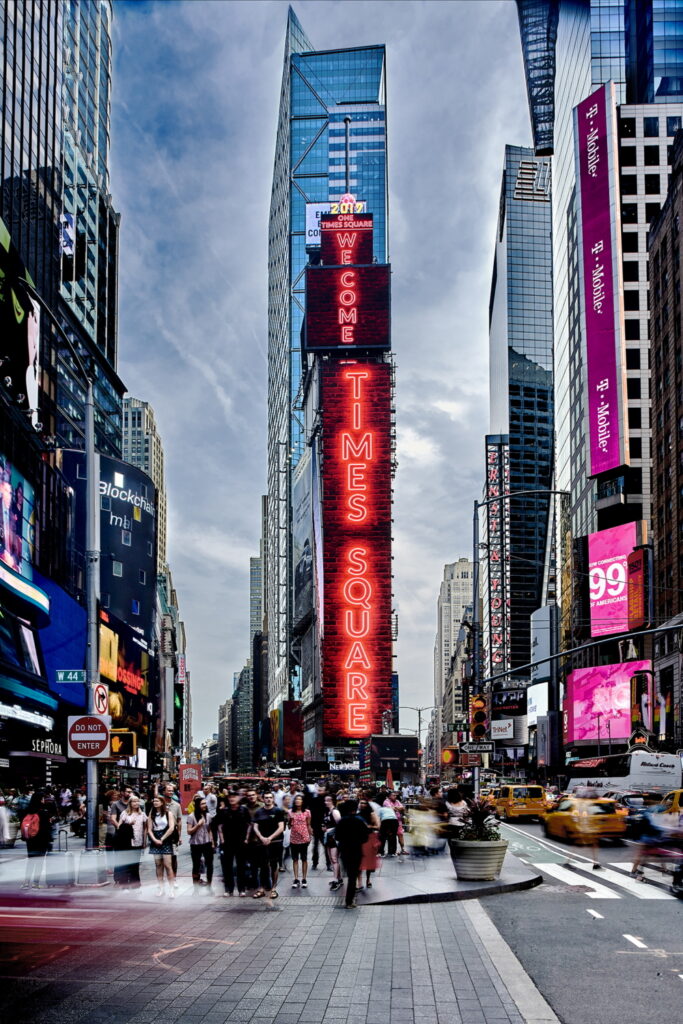 #4. The Beast
Placed right above the Mcdonald's restaurant in Times Square, it is seven stories high and, with an audience of over 350.000 people daily, is definitely among the most spectacular and most popular displays in New York.  It can display at 4K resolutions. You can book it on our platform at prices affordable for literally any pocket.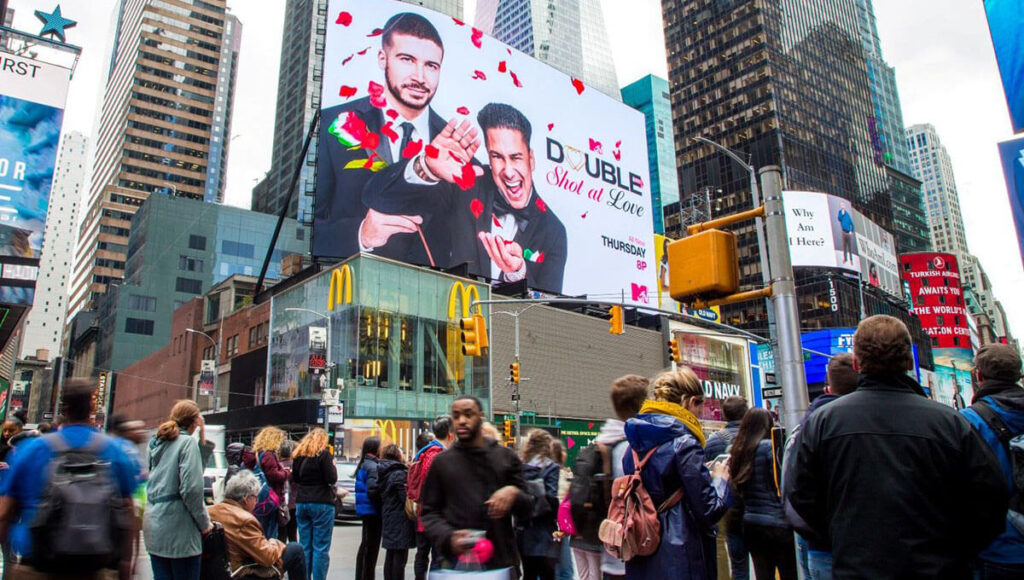 #5. Sunglass Hut 
A billboard placed right across The Beast and the Mcdonald's restaurant in Times Square. This screen reaches tens of thousands of people daily and can be booked on our platform at very accessible costs.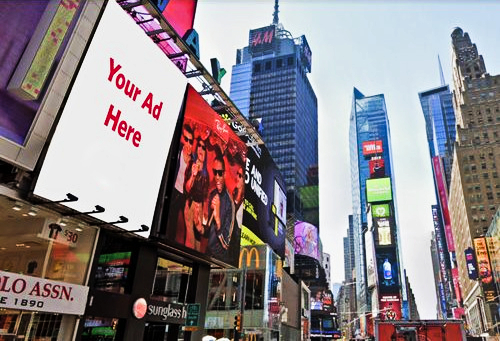 #6. 2 Times Square
This spectacular digital billboard is placed right below the famous Coca-Cola screen next to the iconic Duffy Square red steps. This screen attracts millions of people weekly and can be booked at very friendly prices only on our platform.

#7. LinkNYC 
A network of over 1700 screens in New York, starting with Times Square and well placed in crowded and famous places that attract millions of people because they have free WI-FI. You can book them at outstanding accessible prices only on our platform.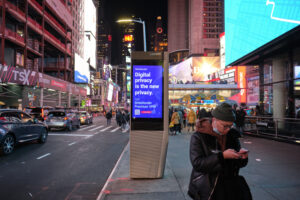 #8. PABT Midtown Manhattan, NYC 
Located at the Port Authority Midtown Bus Terminal's southeast corner at 8th Avenue and 40th Street, very close to Times Square. This screen can be seen all the way from Madison Square Garden, and Moynihan Train Hall at Penn Station has over 1,000 square feet and thousands of impressions each hour. It is for sure a great digital billboard to have your ad on it, and it's one of the most affordable spectaculars in Manhattan only through our platform. 
Bonus:
This digital billboard is placed right just outside H&M's prime location at the southeast end of Times Square. It's a 1,674 square feet spectacular billboard that reaches tens of thousands of people each hour. You will definitely make a statement if you could have your ad run here. And now you can, at an amazing and very accessible price only through our platform.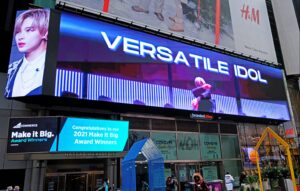 Placed on the famous Broadway street, this spectacular billboard attracts the views of thousands of people each hour and is also placed right before Times Square in New York. In a city that never sleeps, you need to do a lot of things just to get your business seen by the target audience. So choosing this amazing unit is for sure a start to your success and you can book it at an unbeatably affordable price only on our platform.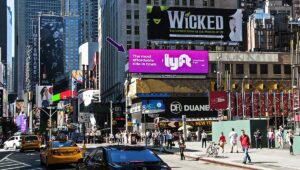 If you're looking for a billboard outside Times Square that is also placed in a high-traffic area you can choose Bryant Park. Located between 6th Avenue and Broadway dominating the busy area between Bryant Park and Times Square, with an estimated weekly reach of over 3 million people, is for sure one of the best billboards to advertise on. You can book it very fast and easy at an unbeatable friendly price on our platform.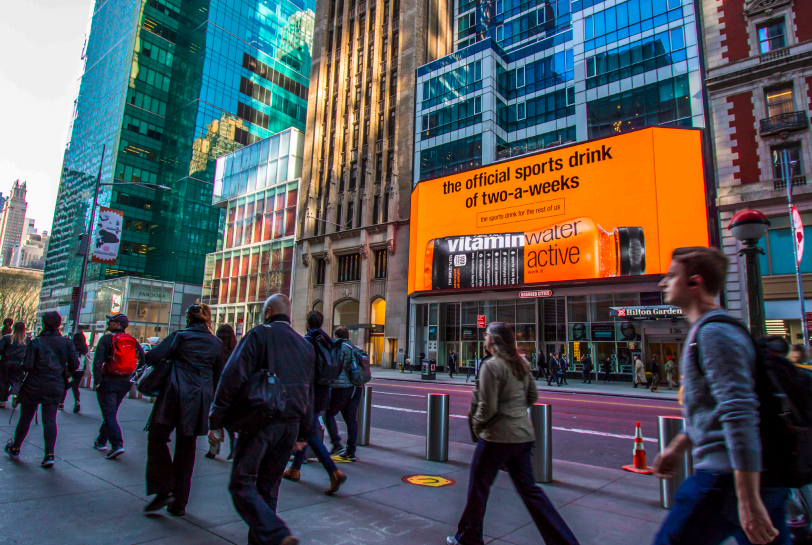 This is the main intercity railroad station in New York, serving more than 600.000 passengers per weekday. Located beneath Madison Square Garden, you could book this spectacular billboard on our platform at such affordable costs you won't believe it.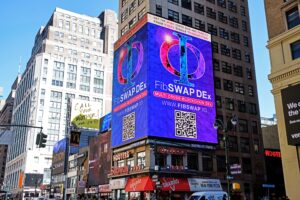 Liberalizing the digital billboard market in N.Y.
Outdoor advertising hot spots such as New York are prime locations for brands to deploy their ads and boast their creative prowess. Naturally, outdoor advertisers are taking advantage of that and are charging big bucks for their screens, playing alongside the big media agencies to protect the market.
If you'd buy the classical way, a billboard/month/ad will easily set you back over $100.000/month, not to mention the agency fees that you would be putting on top of that.
With Blindspot's tool, you can bypass the old model of media-buying and just buy hourly slots on digital billboards, smartly programming your ads to activate your audience precisely at the right time, exactly where you want it. This way, you'll not be spending a fortune on outdoor ads. Instead, you'll have access to a media channel that was previously locked down by big spendings while also getting some kick-ass ROI to go with it.
Outdoor advertising and digital billboards aren't the playgrounds of big-budget brands anymore. Anyone in your marketing department, heck, even your grandma, can now buy an ad in Times Square just by making a few clicks and putting up some nice content.
We ❤️ New York too.
If you love New York as much as we do, you've probably had a fun time reading through this. You probably enjoyed it even more if you're also an advertising fan. If you're considering advertising on a billboard in New York, you can sign-up right now and have your ad running on a screen in Times Square in no time.

How much is a billboard in Times Square?
It can start from as little as
2$/hour 
and can get to as far as
2000$/hour 
if you book one of these screens on
Blindspot's platform.
How can I get a billboard in Times Square?
Create a free account on Blindspot's platform, and you're all set to book a billboard in Times Square in less than 5 minutes.
What is the largest billboard in Times Square?
Well, that would be Times Square One, one of the world's biggest and most iconic billboards.
Can anyone buy a billboard in Times Square?
Absolutely! From independent workers that want to promote themselves to large companies and media giants, anyone can buy a billboard very easy and simple through Blindspot's amazing tool.