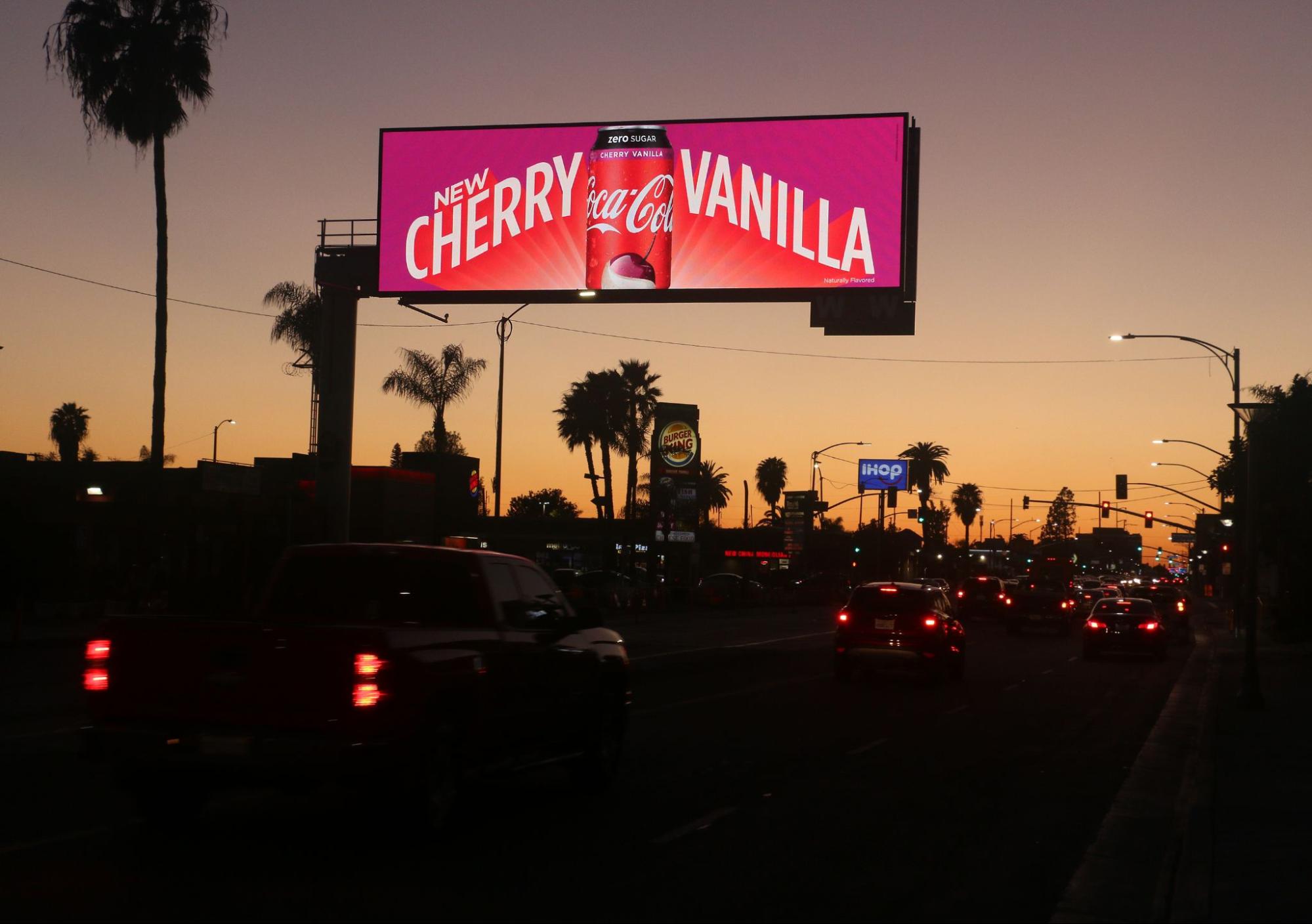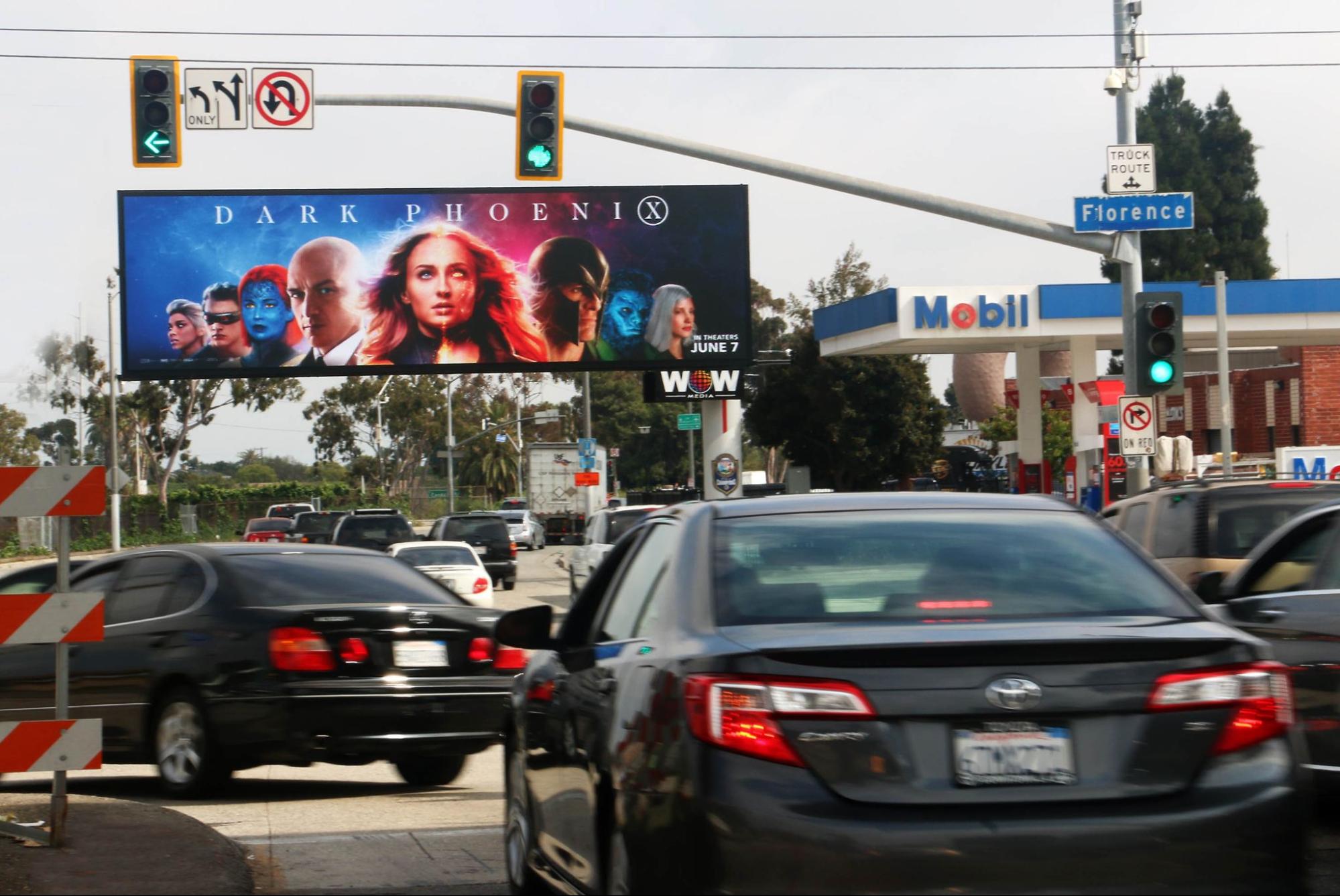 What you need to know about advertising in Los Angeles
Los Angeles is a great city, with over 10 million people in the metropolitan area, plenty of folks here want to make their businesses known to everyone. The average price for advertising in LA is around 43$ per day. Check out our full article about LA here.
Benefits of advertising in Los Angeles
Aside from providing leads for new business opportunities, marketing your brand through outdoor advertisements allows you to build an image of what the company values and represents as well as influence the mindsets of consumers toward products or services they may not be familiar with yet.
Instant billboard reservation
Reach millions of people in a glimpse.
Budget-friendly
Connect with customers on the go at affordable prices.
Low minimums
You can start your ads from as little as 100 plays per screen.
Los Angeles billboards
Discover the power of outdoor advertising in Los Angeles with the help of billboards and other out-of-home media. From the iconic Hollywood sign to downtown's bustling sidewalks, Los Angeles offers a variety of ways to get your message across. See how you can use this eye-catching form of marketing to promote your business and engage potential customers. 
Los Angeles features an impressive selection of unique advertising landscapes, from well-known structures to the bustling sidewalks and street signs of downtown. 
Digital billboards are a great way to take advantage of this high visibility – they are aesthetically pleasing, offer helpful content such as directions and contact information, and have a lasting impact on customers due to their size and presence. Other out-of-home media options also exist, giving you multiple ways to bring attention to your product or service. With these types of messages in mind, you can create captivating campaigns that draw people in. Additionally, with careful placement, you'll ensure that your message reaches your target audience while maximizing its effectiveness. Attract eyes with billboards and other outdoor signage in Los Angeles – the city's vibrant atmosphere caters perfectly to out-of-home media.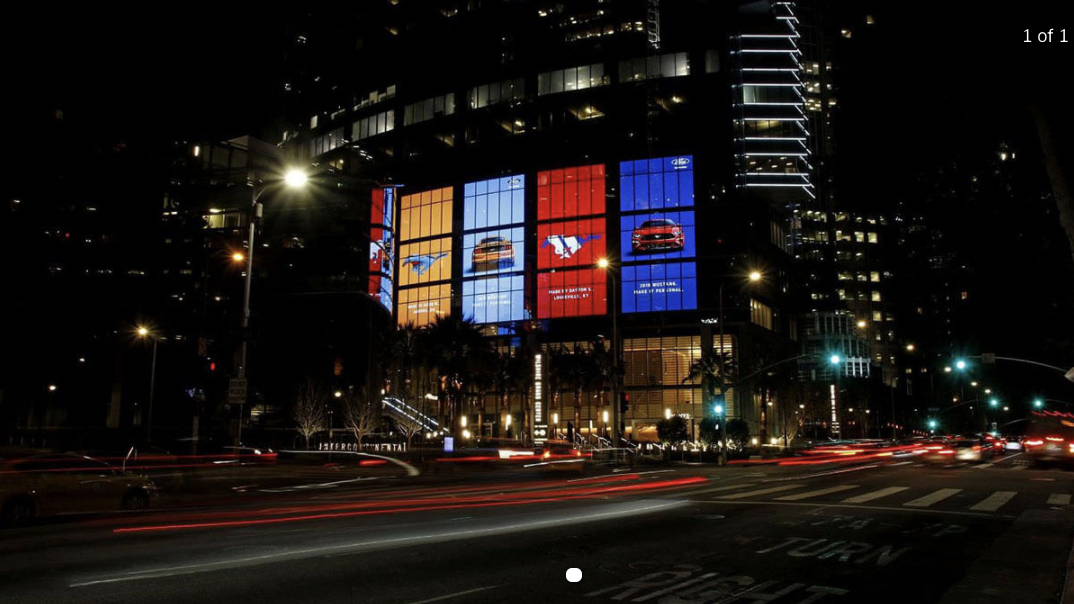 Billboards in Los Angeles
There are over 10,000 billboards in Los Angeles, and you can find the best of them – and also the best deals and special offers – at Blindspot.
Billboards are highly unregulated in Los Angeles. There are no zoning laws that restrict where they can be placed, and there is no limit to how many billboards a company can own. This has resulted in a cityscape dotted with giant digital displays and giant advertising hogs like the 8-story "Giraffe" billboard on Sunset Blvd.
DOOH Media Formats in Los Angeles – types of billboards available in LA
There are many types of billboards available in Los Angeles, each with their own unique benefits. Here is a look at some of the most popular types of billboards in LA:
Traditional Billboards

– Traditional billboards are the most common type of billboard in Los Angeles. They are typically large, highly visible, and offer a wide range of advertising space.

Digital Billboards

– Digital billboards are becoming increasingly popular in Los Angeles due to their flexibility and dynamic content options. These billboards can be programmed to display different messages at different times of day, making them ideal for targeting specific audiences.

Mobile Billboards

– Mobile billboards are a great way to reach people on the go. These trucks or trailers are equipped with large digital or traditional billboards that can be driven around town, making them highly visible to pedestrians and motorists alike.

Graffiti Billboards

– Graffiti billboards are a unique form of outdoor advertising that uses street art to create beautiful and eye-catching displays. These billboards can be found in high-traffic areas throughout Los Angeles and often generate a lot of attention from passersby. 

Sky Sign Billboards

– These massive signs are commonly found in Los Angeles, typically hanging from the side of a building or on top of roof lines. Sky signs can be seen for miles, allowing companies to reach a huge audience.
Advertising in Los Angeles
When it comes to advertising, Los Angeles is one of the most competitive markets in the country. Outdoor advertising, including billboards, is a popular and effective way to reach consumers in LA. Billboards are a highly visible form of advertising, and they can be found throughout the city. From iconic Hollywood signage to smaller signs in busy neighborhoods, there's no shortage of places to advertise in LA.
Outdoor advertising is an excellent way to reach locals and tourists alike. Billboards are especially effective at reaching people who are on the go. And with so many options for placement, you can tailor your campaign to target specific neighborhoods or demographic groups. If you're considering billboard advertising in Los Angeles, contact us or simply check our offers and pick the right advertising in LA that suits your needs. 
Other popular forms of advertising in the area include tv and radio spots, print ads, digital media campaigns, and even transportation ads such as bus wraps and subway posters. With so many options, you're sure to find a solution that works for your business.
Where to advertise in Los Angeles, California
Most people think of advertising in Los Angeles as expensive and difficult to accomplish. However, there are a number of ways to advertise in Los Angeles that are both effective and affordable. 
One way to advertise in Los Angeles is through billboards. Billboards are a great way to reach a large audience, and they can be very effective in promoting your business or event. Blindspot specializes in out of home advertising (digital billboards), so we can help you find the best location for your billboard.
Here are some other ways to advertise in LA:
Bus shelters.

Bus shelters are located throughout the city, and they offer a great way to reach people who are on the go. You can find bus shelter advertising companies that can help you get your message out to the public.

Street banners.

Street banners are a great way to reach pedestrians and motorists alike. You can find companies that specialize in street banner advertising, and they can help you get your message out in a variety of locations.
There are many other ways to advertise in Los Angeles, but these are just a few of the most popular methods. If you're looking for an effective and affordable way to promote your business or event, consider using out of home advertising.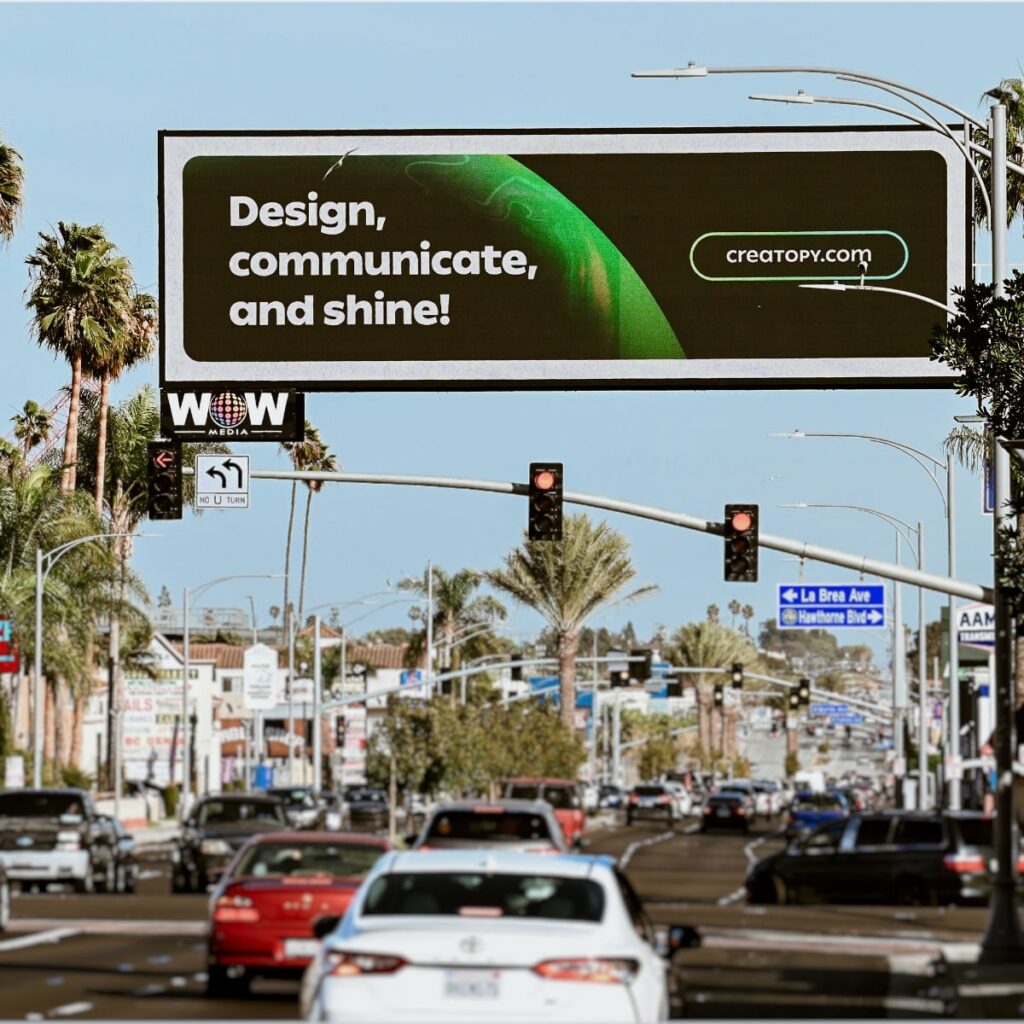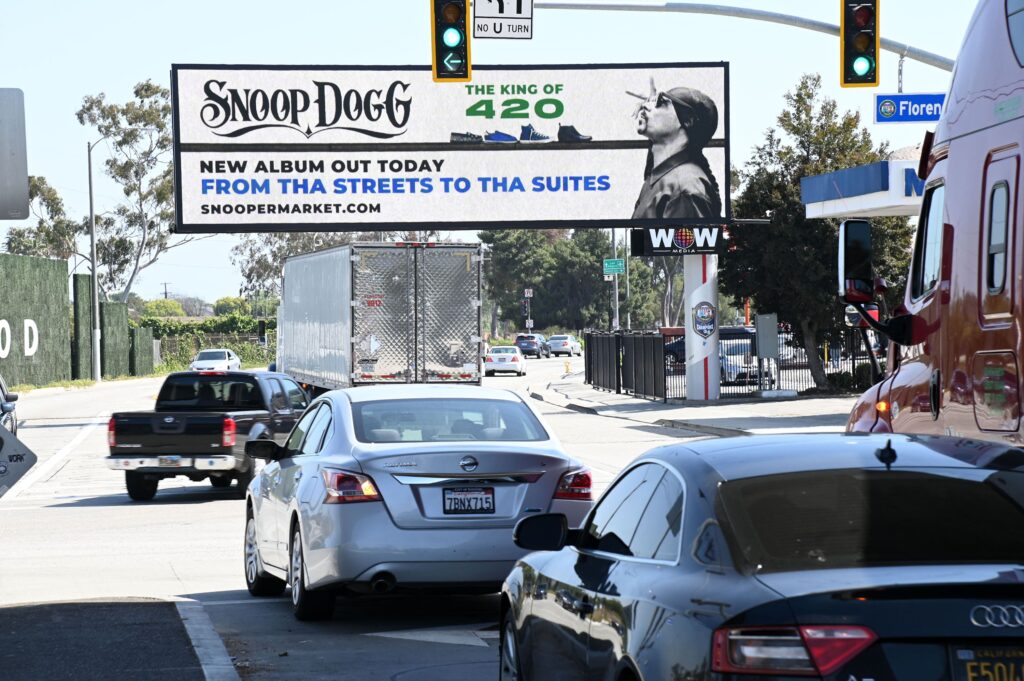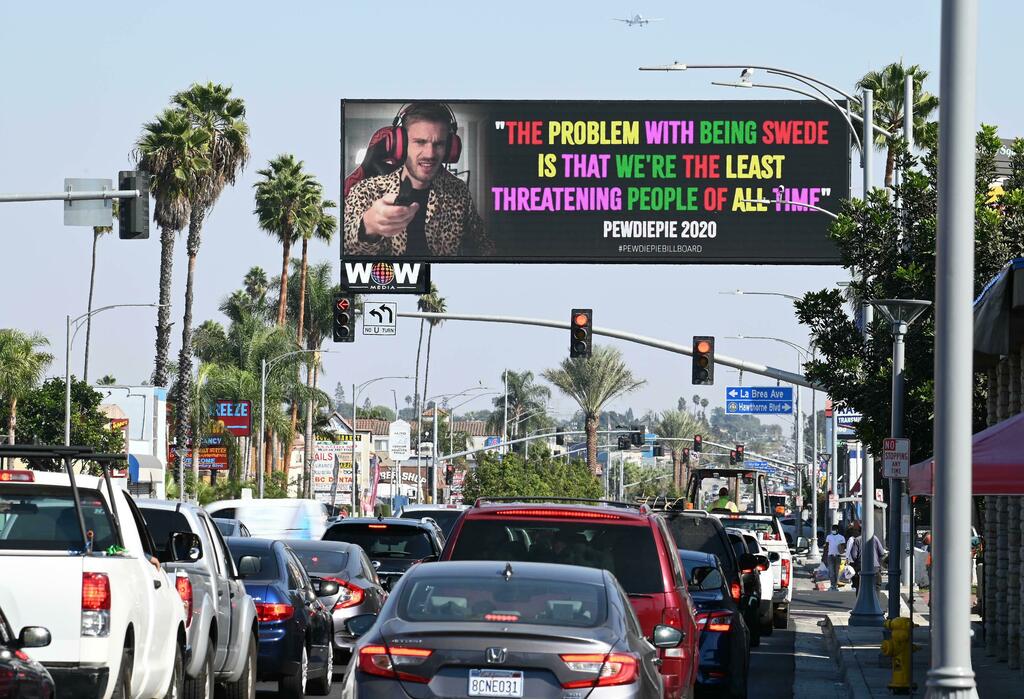 Wouldn't it be great to have your ad shine here, right above one of the busiest neighbourhoods in LA?
Who says you need big bucks to have a digital billboard in Los Angeles? Through our platform, Blindspot can help you connect with customers on the go by displaying your brand right before their eyes at affordable prices. You can create an account right now, free of cost.
How about displaying your ad above one of the most famous boulevards in LA, Sunset Blvd. You can book one very fast, starting from about 4$/hour.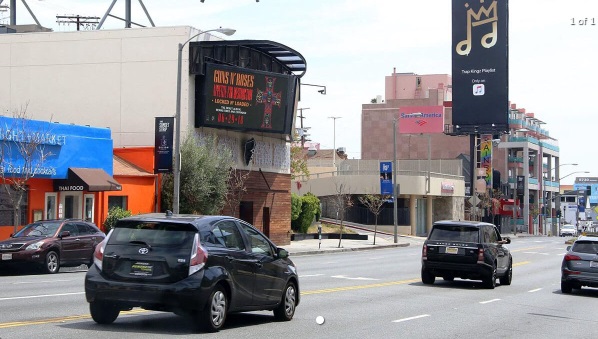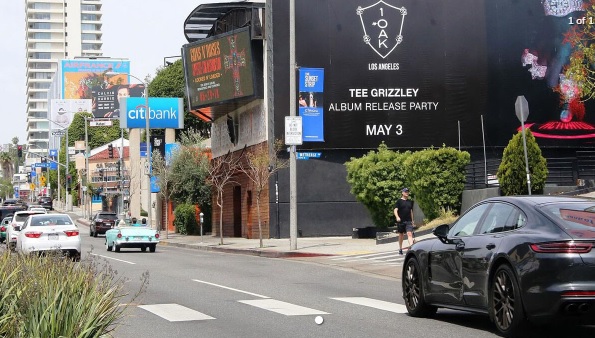 Here is another good example of a digital billboard in LA. The Reef! Located in the heart of Downtown LA, this massive 736-foot screen is towering North, East, and West over the Santa Monica Freeway and Harbor Freeway, which are two of America's busiest highways—delivering over 173 million impressions weekly.  Although pricy, it's by far the most spectacular billboard in LA.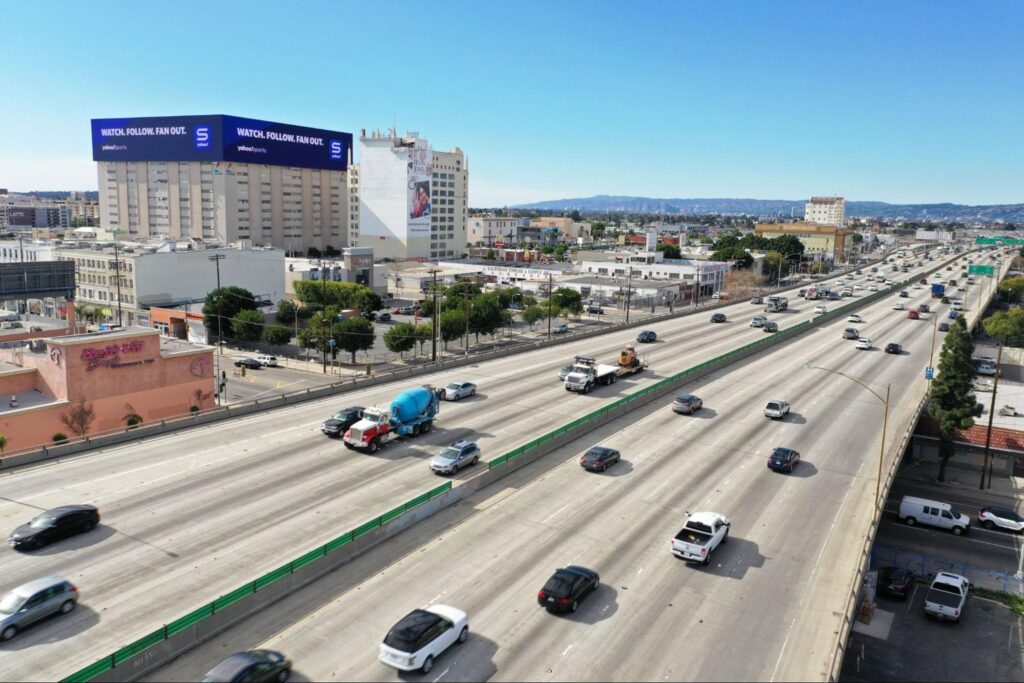 Billboard cost in Los Angeles – advertising pricing in LA
If you're looking to advertise on a billboard in Los Angeles, you'll need to budget for some pretty high costs. But the return of investment will speak for itself and will support the efficiency of this method. Billboard prices in LA can range from $2,500 to $50,000 per month, depending on the location and size of the billboard.
Here's a quick breakdown of some average pricing for billboards in Los Angeles:
Small digital billboards (4′ x 8′) start at around $2,500 per month

Large digital billboards (10′ x 20′) can cost up to $50,000 per month

Traditional paper billboards start at around $3,500 per month
Of course, these prices will vary depending on the specific location of the billboard. For example, a billboard near Hollywood Boulevard will likely cost more than one in a smaller neighborhood. And if you want your ad to be seen by commuters on the freeway, you'll need to budget for a higher price tag.
But no matter what your advertising goals are, there's sure to be a Los Angeles billboard that fits your needs and budget. For more information about billboard costs in Los Angeles, reach us. We will provide you with more specific pricing based on your exact needs and budget, just a few clicks away.
LA billboards pros: why advertising in Los Angeles pays off

 
There are many reasons why advertising on billboards in Los Angeles pays off. For one, the city is home to a large and diverse population, which provides opportunities to reach a wide range of potential customers. Additionally, Los Angeles is known for its vibrant and creative culture, which can be a great showcase for businesses that want to project a cutting-edge image. And finally, the city's extensive freeway network ensures that advertisements placed on billboards will be seen by a large number of people each day.
All of these factors make Los Angeles an ideal market for businesses that are looking to invest in Outdoor Advertising. By reaching such a large and diverse audience, businesses can maximize their chances of generating leads and increasing sales. And with the city's well-known cultural cachet, businesses can use Los Angeles billboards as a way to build their brand and establish themselves as leaders in their industry. 
In addition, billboards in Los Angeles offer businesses a great opportunity to target their desired demographic. By choosing specific locations and messages, companies can customize their ads and tailor them to the people most likely to respond positively. This ensures that their advertisement campaigns have maximum reach and provide greater value for their money. 
Overall, these benefits make advertising on Los Angeles billboards a wise choice for any business looking to expand its customer base and grow its brand.
It doesn't matter what size company you have; we can show off your logo without breaking the bank! Buying a billboard the classical way could easily cost you over $100.000/month, plus other agency fees that would apply on top of that. Instead, Blindspot provides you top billboard locations in Los Angeles that everyone can afford.
If you're looking for ways to reach consumers out on the road, using digital billboards might just be an awesome way to do it. Or, if your company is based in Los Angeles and wants to create a buzz about itself, you can easily sign-up right now into our platform and start your campaign right away.
How to get a billboard in Los Angeles?
Easier than ever! Create a free account on Blindspot's platform, upload your creative and book one of the dozens of digital billboards we have in LA.
How much does a billboard cost in Los Angeles?
They start from as little as 2$/hour and can get to as far as a couple of thousand dollars per hour if you book them through Blindspot's platform.
How many digital billboards are in Los Angeles?
Thousands! And you can find them at one click away on Blindspot's platform and book one in less than 5 minutes.
Fast access to billboards anywhere!
We're directly connected to digital billboards worldwide and let you submit your own campaigns without ever talking to a human. Of course, we are human (trust us), so if you really want to talk, we're easy to get in touch with.
If you're like us and like simple things, we'll get along great. You can browse digital billboards, see prices, upload content and book hourly slots. Everything in minutes.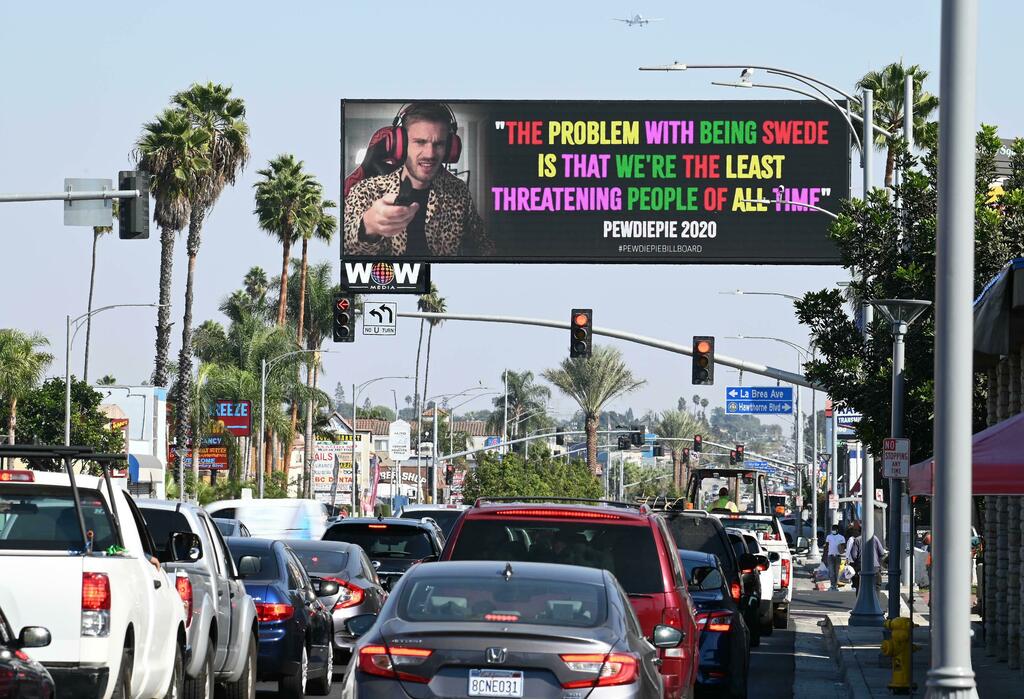 48 hours approval time (Monday to Friday)
Browse digital billboards easy and simple
Our pick – Top billboards