Create your first campaign in less than 5 minutes – step by step
Having your ad run on a billboard anywhere in the world has never been easier than now! Especially with Blindspot's platform,  you could have your ad ready to play in no time on one of the many famous billboards in the world that you can find on our platform.
How? Read this step-by-step guide and find out how easy it is to create your campaign in less than 5 minutes.
Create an account
After entering the website click on the "Register"  (or the "Login" button if you already have the account created) button in the top right corner of the homepage.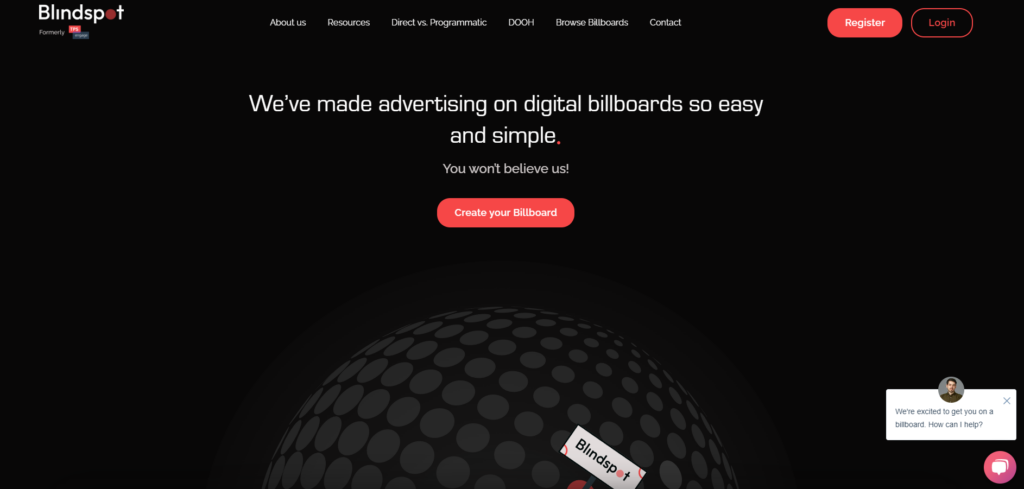 After that, you will be redirected to the account page where you can create an account or sign in if you already have one. You may create an account using your email or, simply using your Google account – as shown below.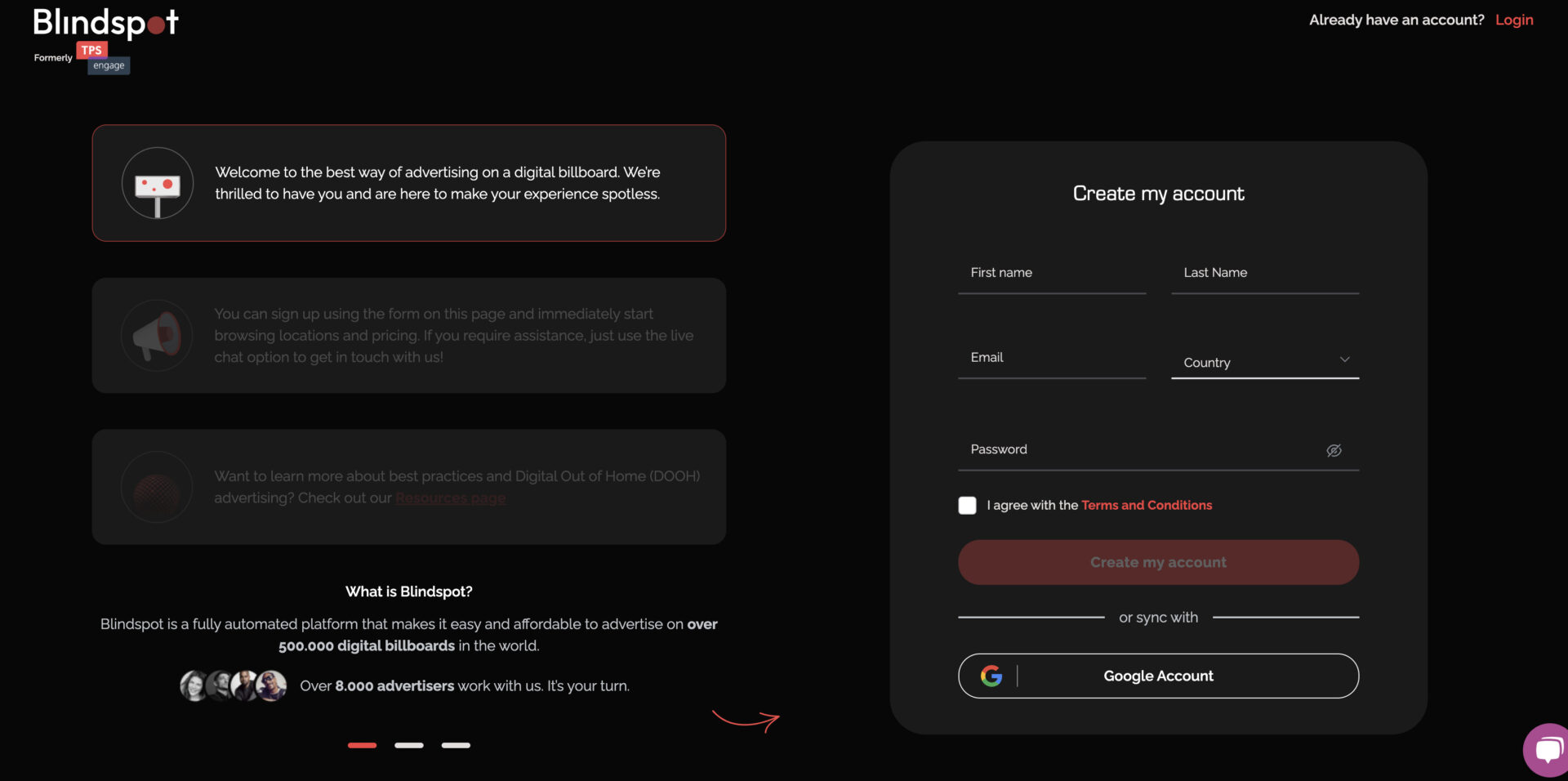 After you create your account and validate your email address you will be redirected to the dashboard section in which you can create your first campaign.  Click on the "Publish" button in the left menu or on the "Create campaign" button in the top right corner of the page to start your first campaign. You can expand or minimize the left menu of the platform by clicking on the small arrow right next to your profile avatar.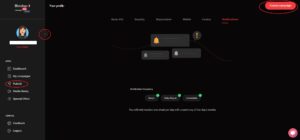 2. Create your first campaign
Doing so will take you to the first step of the ad creation process. Here you will be required to input the name of your campaign (for easy tracking), as well as the industry your client or business is in – this helps us better plan running campaigns so your ad doesn't run immediately after one falling in the same category. 
After you've done this and clicked Continue, you'll be required to select a country or a city from the "Start typing your location" drop-down menu and filter your screens accordingly from the "Filter" menu.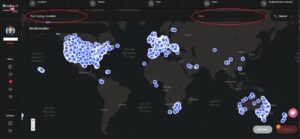 You also have different filters to choose from here. Especially the 3 "Screen Type" boxes that can be selected all at once, or just one of them depending on your preference.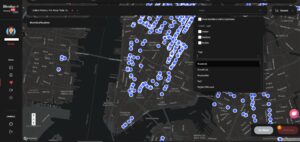 You also have some tags you can choose from depending on your campaign goals and preferences as shown below.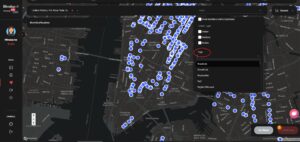 You can scroll by clicking on the blue dots from the zone you are interested in or simply using your mouse wheel/trackpad to zoom in and out.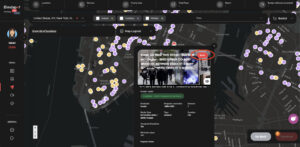 Once you've found a screen (represented as a blue pin on the map) or location that you are interested in, simply click it. A pop-up screen will appear to see essential information such as type, available scheduling (hourly or daily), display format, resolution, numbers of screens and also set the number of times your ad should play per hour, before booking the screen on the top right button in the pop-up ("Book"). 
You can also find a list of all billboards from a location you have zoomed in that is shown if you click on the left of the map under the "Locations" menu on "Show list of locations" tab. You can also book billboards directly from this list if you click on the red "Book" button.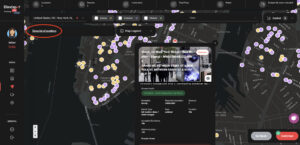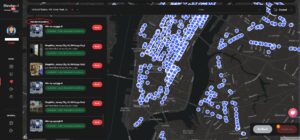 Once you click "Book" on your desired billboard, you'll see it added on the right side of the screen in the "Basket" tab.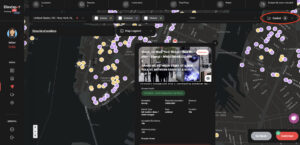 You can remove the selected screen by clicking the "Remove" button in the pop-up or by clicking on delete from the "Basket" tab.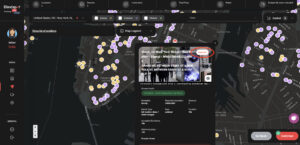 After this step click the "Continue" button on the lower right corner of the page.
Now you've reached the Scheduling step. Here you can select in which days and hours your ad will run. Simply click on an available slot in the table according to your preference (day, hour). You can choose multiple slots on different days or weeks if you desire. Based on your selection, the data for your campaign will be updated in the Summary section at the top of the page. You can see multiple examples below.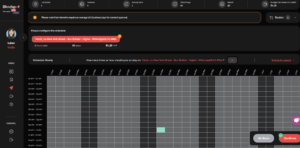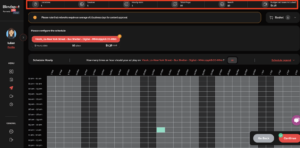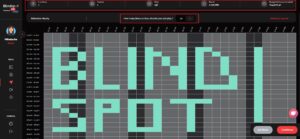 In the summary section, you will see different stats about your future campaign. Starting with the number of locations, screens, hour slots selected, estimated reach, and total budget. The reach number is an estimation provided by the network that owns the screen, we do not have access to this kind of stats on all screens. But no worries, the estimated reach given by the network is pretty accurate and at the end of your campaign, you will get the real numbers.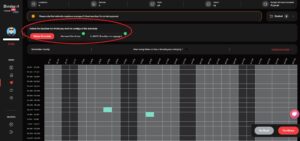 As you can see in the "Select the location for which you want to configure the schedule" tab, if you select "Global schedule", you will be able to select the preferred time slots from there and it will apply to the billboard you have selected. This feature is good to use when you have multiple billboards selected and you want the ad to play the same for each of them. Or you can click on the name of the screen next to the "Global schedule" button and set the time slots from there also. Then click "Continue".
Almost there!
After you've planned your campaign, you can now upload your visuals, as well as set contextual rules so your ads play in the perfect context. Please keep in mind that the run time for most networks (it will be stated when the case is different) is 10 seconds. You can upload static images (jpeg) or videos (mp4) depending on the screen. The correct resolution for creatives will be displayed in this window.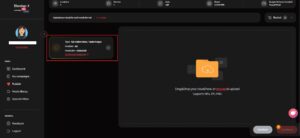 Note that you cannot continue to the next step if there are no visuals uploaded and you cannot upload images or videos if they do not match the required resolution.
After you upload your content, you will see the next screen.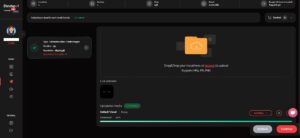 You can click "Add Rule" to display the list of rules if you would like your ad to run in a context you desire. For example, if you are a brand that sells umbrellas, then you could add the "Rain" rule so that your ad will be triggered only when it rains. Or you can leave the visual with no rules and it will play normally.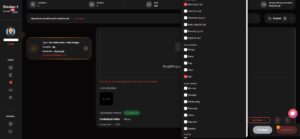 This is an example of a simple campaign that has one visual on one screen. You can add up to 3 visuals on the same screen if you want and will be played in a loop.
Here's how a campaign with dynamic creatives (videos), multiple displays selected, and rules look like.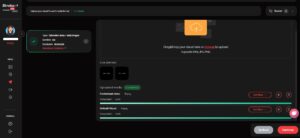 To add rules for your ad you must have at least two creatives uploaded for the same billboard, otherwise, you will get an error message like in the image below.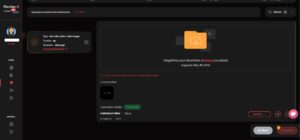 Once you have your visuals uploaded and rules set (if you want any), click on continue. You'll see a preview of your campaign and once you hit "Publish your campaign" and the campaign is approved, it will start running within the timeframes you have chosen. You can also download your media plan for safekeeping.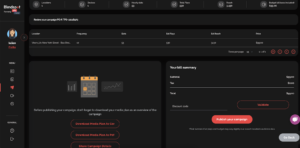 *Please note that there is a buffer of 2 days for content approval to ensure timely delivery.
Congratulations! You now know how to create your first campaign!