[Case Study] The power of recall #YOXO
How Data Revolt & Blindspot provided YOXO with a bridge between digital and DOOH media with stellar results
What is YOXO
YOXO is a digital subscription, mixing prepaid voice services and classic subscriptions by taking the best from both worlds:
lack of concern that one has to buy a prepaid card or recharge when voice or internet traffic is consumed on one hand
total control over all resources and the possibility to end the subscription at any time, without contractual penalties, on the other hand.
YOXO is an app available in app stores, and its use & activation are 100% online.
Blindspot
Blindspot is an online marketplace that connects over 1 Million digital billboards worldwide, enabling contextual and hourly buying so advertisers can run more effective campaigns.
Concept: Creating the feedback loop in terms of user behaviour and generate propensity.
Consequently  – we develop a product that communicates tailored to their preferred mediums. We know the potential clients of YOXO by looking at their online behaviour.
Thus, we reach out to Blindspot and aim at placing visual touchpoints that complement clients' lifestyles.
Generate the propensity for a future market behaviour in specific moments & for specific targets – Subway / While waiting for the ski-bus / ski-lift / etc.
Users enter the funnel a step further than usual – they are already in the funnel when they meet YOXO online.
By employing the data-marketing mindset in an outdoors environment, we aim at redefining the rules of OOH and enter the new era of contextualized, percutant, attention-grabbing and impactful 360 integrated campaigns.
This marketing solution, based on a data-driven, agile approach, increased the rate of brand-related searches and boosted the adoption rate.
The main metrics we analyzed were:
*Click-to-download
*Overall brand searches for "Yoxo."
*No. of direct website visits (from Bucharest, Brașov, Sinaia)*
In terms of DOOH exposure, the ads were played 332,757 times and reached 2,179,124 people.
Relative to a similar period of time, the results were beyond what we initially projected.
See below an excerpt of the reporting: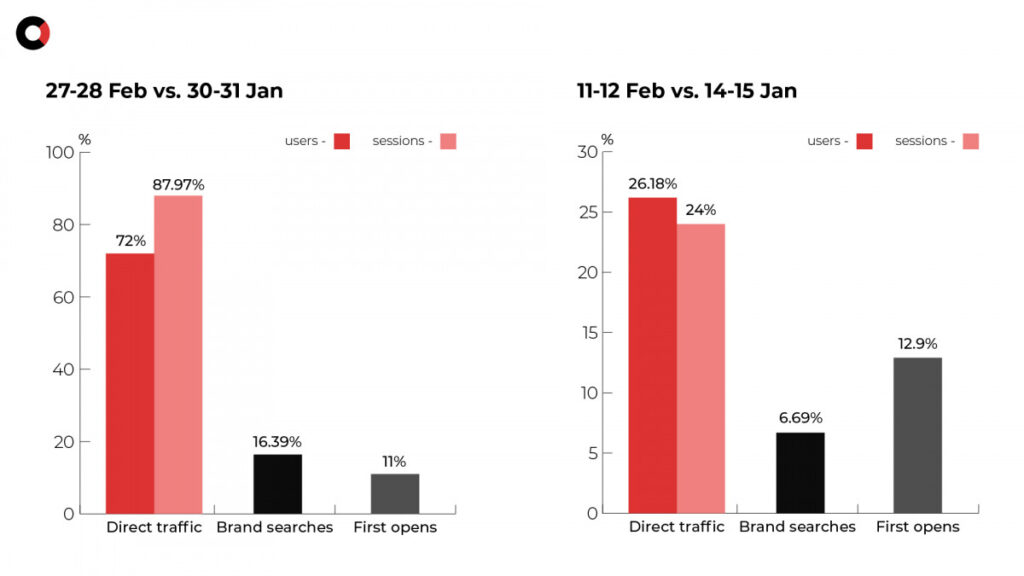 Furthermore, we took into account the projected increase in the view time of YOXO visual touchpoints & we aimed at a set of specific reactions:
They should spread the word and generate organic content
*It should activate a sense of community and togetherness
*When they enter the funnel, they should be more likely to finish it and convert
*They should associate YOXO with a pleasurable experience
*Their curiosity should be activated
*The visuals are thought of as eye-candy
Sum up:
+ 57.80% traffic on the website
+ 18.61% first opens
+ 23.57% brand searches
"The Blindspot – DOOH solution, is empowering our digital media strategy with an end-to-end ad tech solution- plugged-into our in-house ecosystem, allowing us to amplify the campaigns in a more dynamic and contextual way, access trusted data and extract quick insights at a global scale. ", Alex Volocaru, Digital Performance Manager."
"We're thrilled to have been able to help YOXO add digital billboards in synergy with their online performance marketing mix by using micro-buying to test out various scheduling options. By correlating online KPIs, it was easy to see what their audience was resonating with. Modern brands are quick to react and test even traditional channels and YOXO is definitely paving the way forward" , Elena Cîrîc, Head of Growth, Blindspot."
Originally posted on: https://www.iqads.ro/articol/54472/case-study-the-power-of-recall-pentrucayoxo#