[Case Study] Airbnb uses Digital Out of Home to address NYC policy changes
Performance versus Brand
Airbnb has always been at the forefront of marketing trends. While most marketers hyper-focus on what is traditionally considered "performance" marketing (meaning they allocate budgets based on CPM, CPC or CPA KPIs), during the pandemic, Airbnb shifted their strategy and started distributing the majority of their budget to brand building. The new approach was an immense success.
On a conceptual level, this worked because performance marketing is a great way to drive acquisitions once customers have already been exposed to the other parts of your marketing funnel. If performance marketing is all they see, you will be missing out on a huge audience that simply isn't yet aware of your brand and for which the aggressive CTAs will have little impact.
Airbnb's latest campaign, executed with Blindspot, is a great example of this mindset.
New York City's latest plans could affect as many as 10,000 listed Airbnb units in NYC due to stricter policies and regulations when it comes to short-term rentals. NYC has been a tough market to crack for a lot of companies due to aggressive government policies and Airbnb is no stranger to tough regulations.
Starting a conversation
In order to get to show everyone, including government officials, the impact Airbnb has had in the lift of hosts and travelers alike, Airbnb decided to start off their campaign publicly. They targeted the main digital billboards, including JCDecaux bus shelters and LinkNYC street furniture, in proximity to City Hall and optimized their budget by showing the ads at key hours, when both officials and locals alike were most likely to pass by the screens and notice the campaign.
The creative was showcasing stories of New York responsible hosts that were using Airbnb correctly. Their stories brought attention to the positive impact Airbnb has had on people across the world, including in New York City.
Here are the creatives live in action: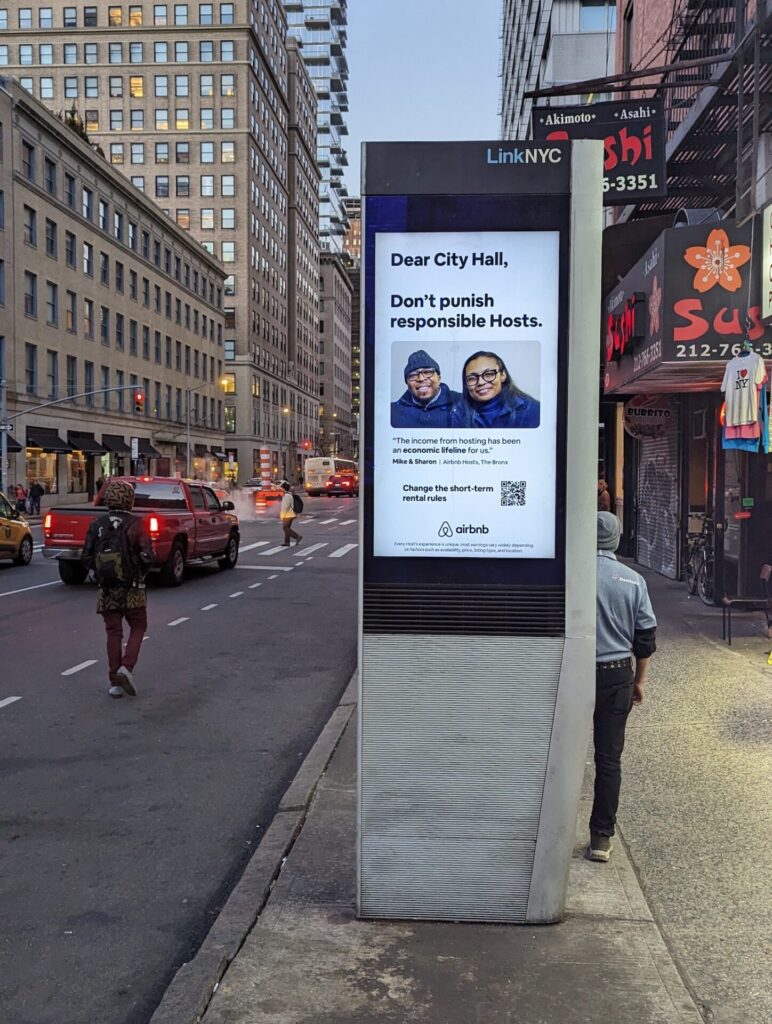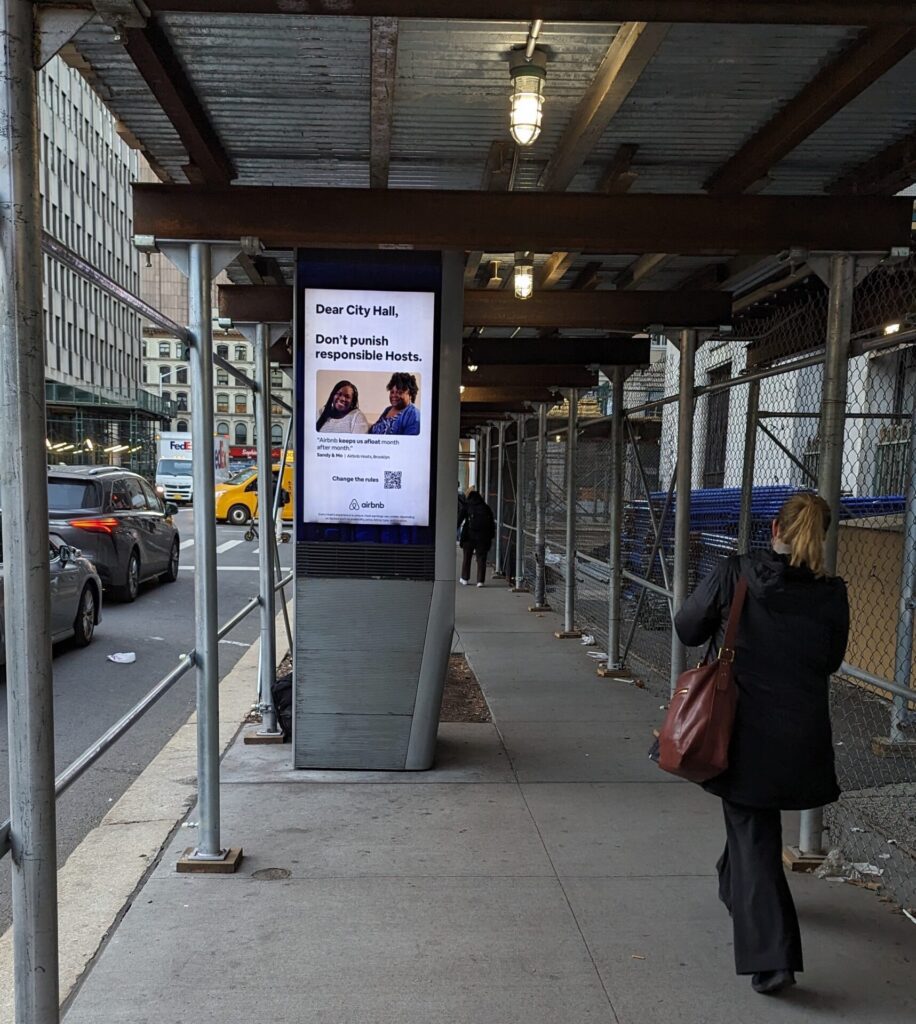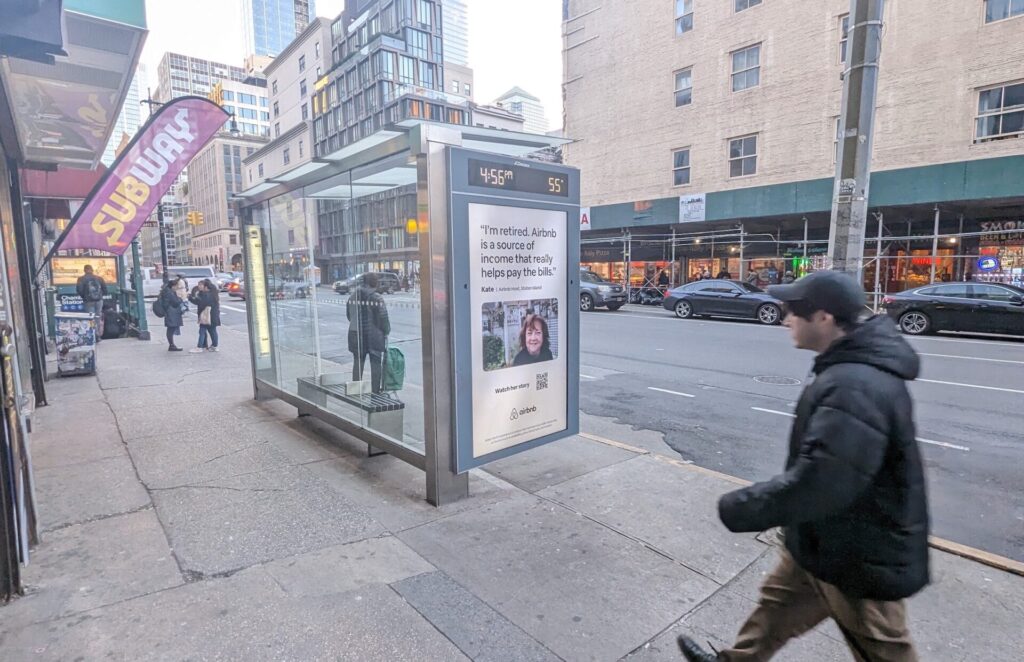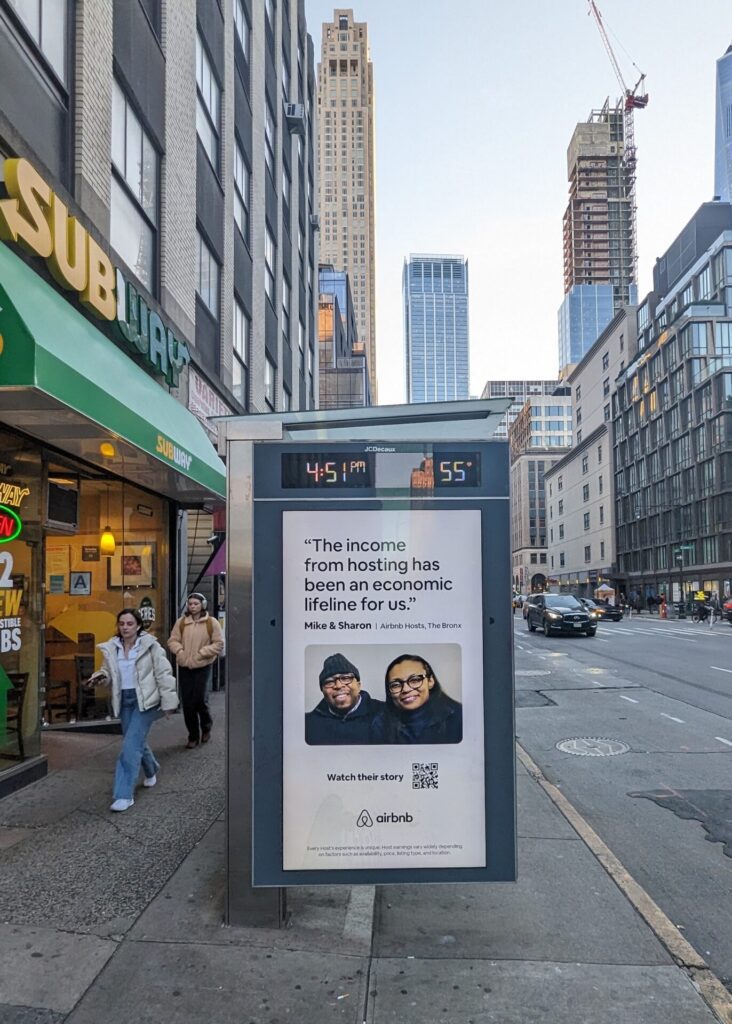 The campaign reached over 1 million New Yorkers in just a few weeks. By being able to cherry pick locations and geo-target their artwork to run on the most relevant units at the most relevant hours, Airbnb was able to optimize their budget efficiency. While the issue of housing and rental regulation in a city such as New York is an extremely complex issue, Airbnb managed to present another side of the coin to New Yorkers and show that there are thousands of responsible hosts that should not be subject to stricter regulation as it would impact both their and their guests' economic well-being.
It's your turn
This campaign is just one example of how to use Digital Out of Home or digital billboards to enhance a conversation around a topic your brand cares about. While many more aspects of the campaign were happening behind the scenes, the fact that a public display of support was shown in the streets of New York helped create a significant positive impact. There are plenty more case studies and examples for you to explore.
If you're curious to learn more about how Blindspot can help you with your Digital Out of Home needs, please read more about us here or sign up to browse over 500.000 digital billboards available on our platform! You can also always send us an email or contact us via live-chat!