Digital billboards – a canvas for your NFTs, powered by Blindspot
At Blindspot, we like to think of ourselves as early adopters. So, when we first heard of NFTs, we saw a new territory where Digital Out of Home can do more for emerging markets. Whether you are the new kids on the blockchain or a seasoned purveyor of digital art, we are sure to find a solution to suit you. With over 300.000 digital billboards available in both indoor and outdoor settings, We are ready to help you find a display for your NFT in less than 5 minutes.
Not sure where to begin? We will give you a head start by showcasing our best NFT launches and collaborations to inspire you to book your billboard today. So, secure your ledgers, sit comfortably in your chairs and be ready to scroll for a sneak peek into your future success.
YOUR DIGITAL STORY-BILLBOARD
The value of an NFT is more than the blockchain. Each NFT tells a story. A narrative that convinces people of its value. And what better way to tell a story than with a smartly placed Digital Out of Home campaign. Imagine your NFT displayed on our famous NASDAQ Tower billboard in Times Square, New York. It supports both static images and full-motion videos to let your story shine in whatever creative way you want. Did we say it reaches over 13.000 people/hour? That's how far your NFT can go and beyond.
By capitalizing on these strengths, we helped NFT/Mondoir shoot for the moon. They got in touch with their target audience using a custom campaign they set up on our platform, easy as a click on trade on OpenSea.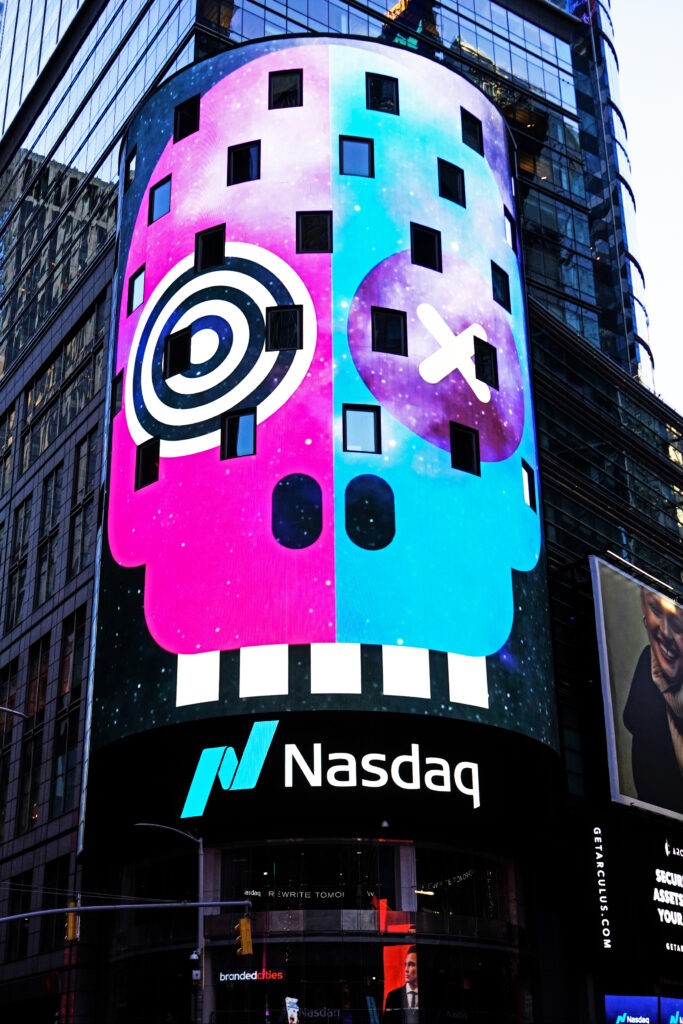 BRIDGING THE GAP BETWEEN OFFLINE AND ONLINE
Want people to see your NFT for what it is? Look no further. A digital billboard can bring your token to life faster than you might think. So take it out of the exchange platforms and let it be seen. This is the move you should be doing to generate more buzz for your NFT collection. It helps make a community around your digital collectibles, which creates a funnel for more leads. A digital billboard is like a bridge between offline and online, which connects people to your NFTs faster than they can connect their wallets on the trading boards.
This is how in the hustle and bustle of New York, we managed to create buzz for Crypto Plush. We unleashed the furry metaverse on our Sunglass Hut billboard next to McDonald's in Times Square. They managed to reach tens of thousands of people a day with a campaign they implemented in just a few clicks.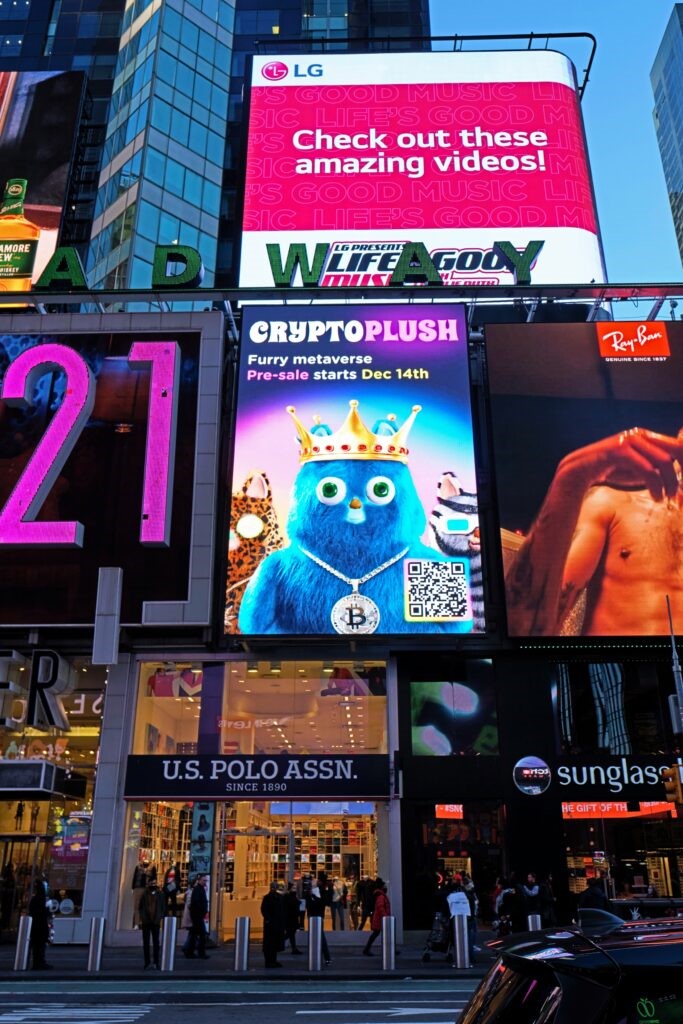 A SCREEN TO SOMETHING BIGGER
One of the most amazing things about NFTs is the communities they create. Owning a digital collectible becomes an access card to an exclusive social club. It is a pass to a networking experience, unlike anything you have seen before. This is how your token on a digital billboard can boost its celebrity effect and make more people interested. It is a way for them to become a part of something bigger, something with real value, which they build one trade at a time.
We helped build such communities by putting them on billboards in New York to upcoming NFT companies such as Rogue Pandas, Hamster Coin, and FibSWAP.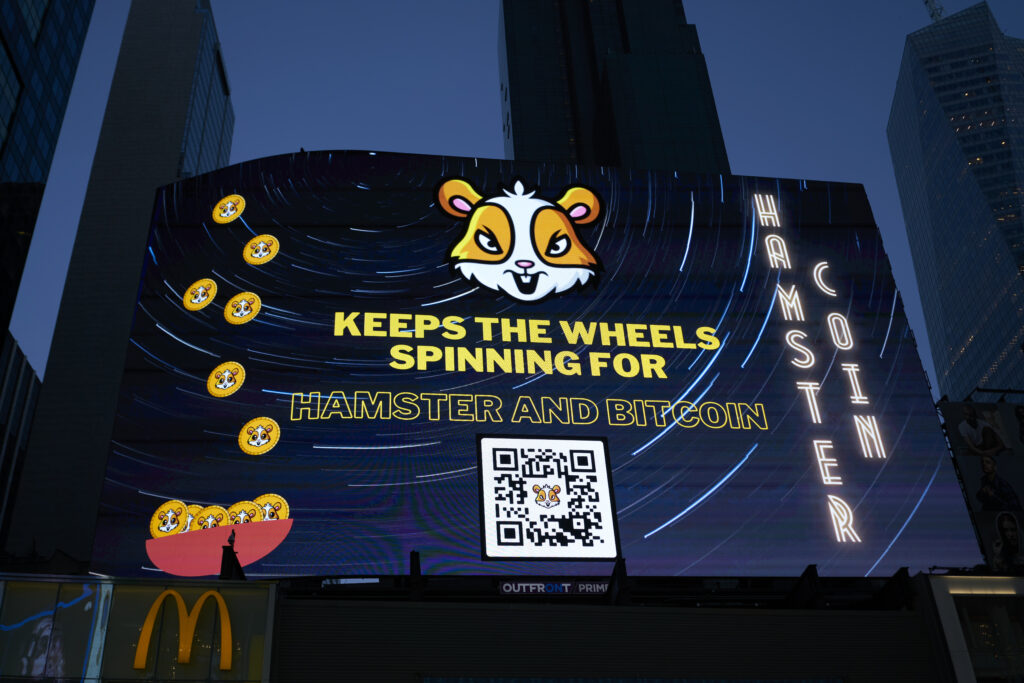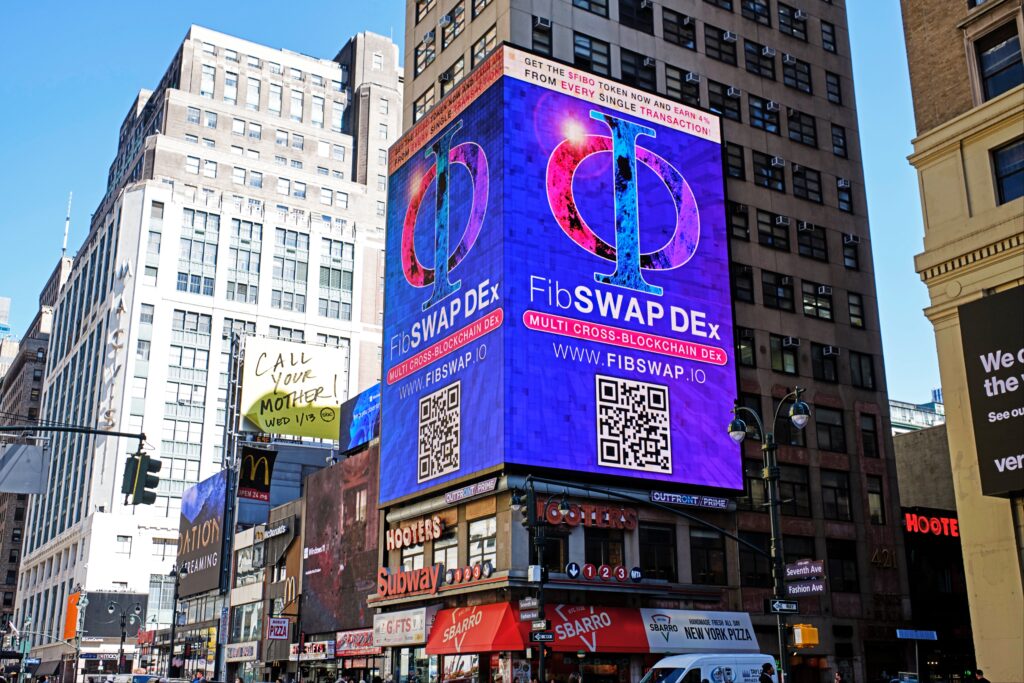 DIGITAL DISRUPTORS SHOULD STICK TOGETHER
What do digital billboards and NFTs have in common? Besides technology, we are both in the digital disruption business. Both mediums provide a way to capture attention in engaging, creative ways that would not have been possible. NFTs have changed how we look and collect what we consider art, and Digital Out of Home provides the canvas to display it to the world.
When NYC billboards such as the one on Broadway Plaza hosted Boss Beauties, we knew new yorkers were in for something unique. Each ad captured the NFTs: empowering girls and women at the forefront of technology, leadership, and creativity. All this power and beauty was achieved in just a few minutes of setup on our platform.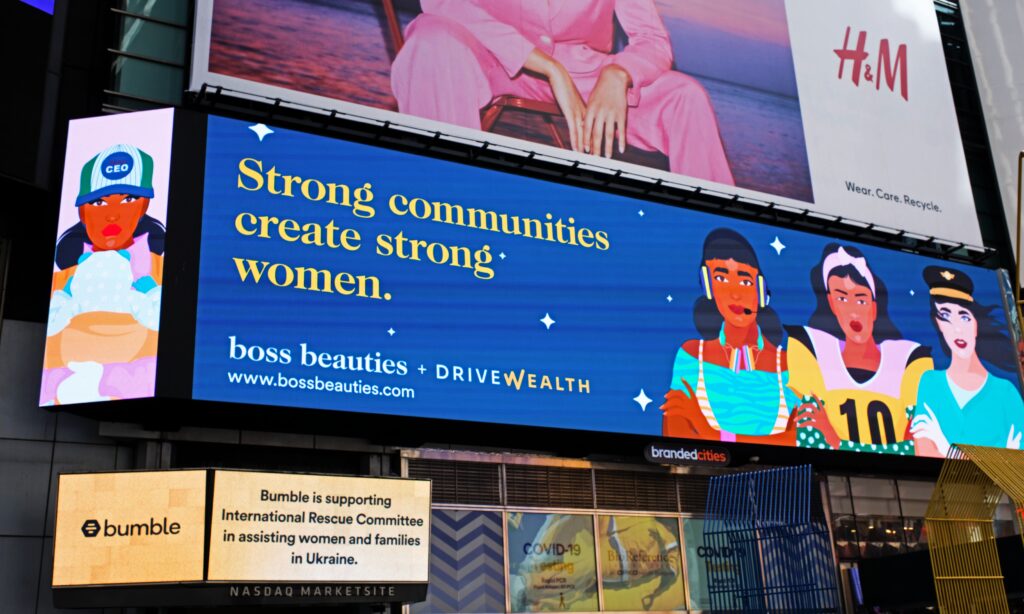 Or when Twin Shiba passed us the ball, we went for the goal. Putting a collection of superstar NFTs on our screens was a blast for passers-by and us. That's the magic of the NFT game. When everything clicks, everybody scores!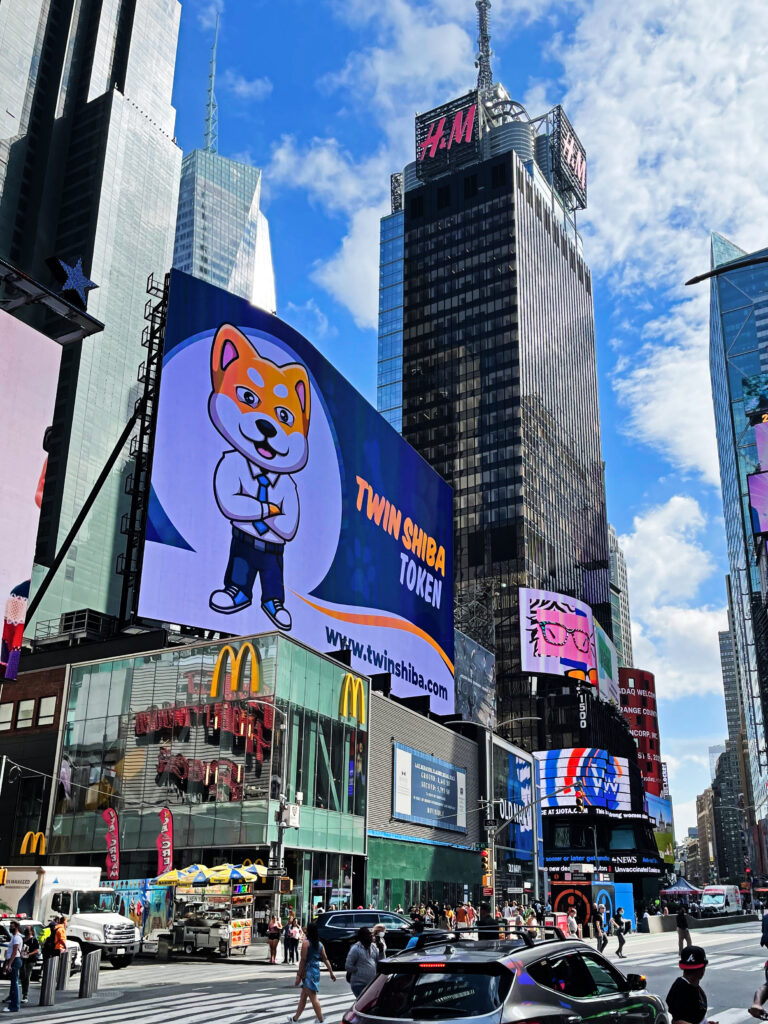 Is your NFT billboard ready? We sure think so. Explore our vast selection of NFT-friendly digital billboards. Reach thousands of people a day with your digital collectibles captured in static images or full-motion videos. Build your token, gather your community under a billboard and disrupt the market. It takes just a few clicks, we promise.