Exploring the World of Creative Billboards
Introduction
Definition and Significance of Creative Billboards
A creative billboard isn't just an oversized advertisement; it is a form of art that harnesses the power of visuals, clever messaging, and strategic positioning to communicate brand messages effectively. Creative billboards are becoming increasingly critical in today's cluttered advertising landscape, as they offer brands a unique and powerful way to stand out from the competition
Purpose of Creative Billboard Advertising
Creative billboard advertising's primary purpose is to grab the audience's attention and communicate a brand's message in the most memorable and effective manner possible. The more creative a billboard is, the more likely it is to spark interest, trigger conversations, and be shared on social media platforms, multiplying its reach and impact

Characteristics of Creative Billboards
Innovative Use of Visuals and Graphics
Creative billboards often feature compelling visuals and graphics. The design goes beyond just showcasing the product; it creatively integrates it with the environment or uses powerful metaphors and analogies to convey the intended message. The best creative billboard designs are those that tell a story without requiring too much explanation.
Clever and Impactful Messaging
Creative billboards excel in marrying visual elements with compelling copy that provokes thought, incites curiosity, or evokes emotion. Brevity is the essence of outdoor advertising; hence, the copy should be simple, clever, and quick to comprehend.

Benefits of Creative Billboard Advertising
Increased Brand Visibility and Awareness
Creative billboards increase brand visibility due to their size, placement, and, importantly, their creative elements that make them hard to ignore. Consequently, these factors enhance brand awareness and contribute to brand recognition.
Effective Targeting of Specific Audiences
Billboards offer the advantage of geographical targeting. With creative billboard designs, brands can effectively reach their target audiences in specific locales, whether it's a bustling city center or a serene highway.
Enhanced Engagement and Recall Value
When a billboard is creative, it can create a more significant impression and engagement. The audience is more likely to remember the ad, thereby increasing its recall value, which can lead to better conversion rates.

Strategies for Creating Effective Creative Billboards
Research and Understanding of Target Audience
Understanding the audience is paramount for creative billboard advertising. Brands need to understand their audience's likes, dislikes, habits, and preferences to tailor their billboards to resonate with them.
Collaboration Between Designers and Marketers
A harmonious collaboration between designers and marketers is key to developing a successful creative billboard. Designers provide the artistic input, while marketers ensure that the design aligns with the overall marketing strategy and communicates the brand message effectively.
Incorporating Storytelling and Emotional Appeal
A creative billboard that tells a story or triggers an emotional response can be incredibly impactful. Storytelling can take a simple ad and turn it into something memorable, personal, and engaging.

Trends in Creative Billboard Advertising
Integration of Augmented Reality (AR) and Virtual Reality (VR)
Emerging technologies like AR and VR are making their way into the billboard advertising industry, giving birth to interactive billboards that offer a more immersive experience.
Social Media Integration and User-Generated Content
Brands are also integrating social media elements into their billboard campaigns to drive engagement and create buzz online. Some creative billboard ads even feature user-generated content, making the audience a part of the advertising process.
Success Stories of Creative Billboard
Impactful Campaigns that Generated Buzz and Went Viral</h3>
Numerous brands have leveraged creative billboard advertising to create impactful campaigns that generated significant buzz. 
For instance,The Diablo ad in Times Square
A dramatic billboard, located in Times Square, New York, advertising the game ominously declared, "Welcome to hell, New York,". While this would be a great campaign even without the added context, the fact that it unintentionally coincided with the intense smoke in NYC due to the Canada wildfires led to the ads going viral.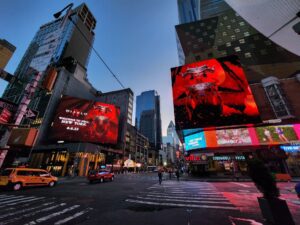 The $GME GO BRRR ad in Times Square
The #1 most upvoted Reddit post of all time is currently a digital billboard in Times Square saying "GME go BRRRRR".  We were responsible for this contextual campaign which became viral and broke records online as the #1 most upvoted Reddit post of all time. The campaign was perfectly timed and ran during the GameStop stock short squeeze.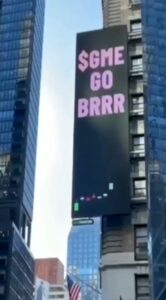 Achieving Business Objectives through Creative Billboard Advertising
Many brands have seen a substantial increase in their sales and market share by using creative billboards. A well-placed, well-designed billboard can bring a significant return on investment by driving brand awareness and sales.