Using digital billboards effectively in the COVID-19 pandemic
New-normal Marketing: a 2021 pandemic story

You might be tempted to think that the pandemic completely ruined it for marketing and for brands. While that might be true in some cases, it's not valid for every avenue out there. Not everything has died off but more often than not, things have changed in marketing, for brands and marketers alike.

The pandemic left a deep imprint on a global scale, with every culture and market feeling its powerful shake. Such an event of global proportions always comes with major and abrupt changes, for businesses, people, the economy and the whole of society.

What kind of changes, you ask? Well… Let's take a closer look.

Post-pandemic
It was and still is harsh, no doubt about it.

Jobs lost, businesses going bankrupt, brands and stocks going down, budgets shrinking and all that goes with – it has all been a very powerful blow to the order of society as we know it. As with any kind of traumatic memory or incident, the "aftermath" of the event is completely shaped by what has happened.

We now see hand sanitizers everywhere we go, masks being sold as a common day commodity, hypochondria and anxiety are going through the roof, the lack of empathy and response because of the masks that are hiding away our facial features, and many such behaviors and evolutions that would have not seemed possible a year ago

The variables of the game have all but changed, including in marketing. We have seen budgets being shrunk to a minimum, a lot of industry jobs and gigs being lost but we have also seen new methods & practices arising to meet the challenges, adapting the marketing industry to the pandemic context and to the new-normal.


New normal Marketing

Everything happened so fast that many of us didn't even have time to react. When new-normal met marketing, marketing needed time to adapt to it.

Adapting to the new normal and the pandemic context meant that marketing had to keep up the pace with it. But how do you keep up the pace with something that's constantly changing?

Yeah, how do you do that?

HINT: You become as dynamic and as fast-paced as the change itself!
Great, but how exactly do you do that?

When the context changes, so does your need to adapt to it. The best way to make sure your marketing budgets and ROI are in a safe spot is to be ready to shift the focus of your marketing efforts to match the context.

Ook, aand… how exactly do you implement that philosophy?

One of the ways to do so is to work with fast-paced, micro-campaigns. By doing so, you make sure that your marketing budget is well spent and that you meet the ever-changing context with adaptive content to suit it.

Besides being able to match the context with your content, you also need to adopt a different budgeting mindset in order to make your money work for you, especially when you're going on out of home channels, like digital billboards and indoor screens.

But don't billboards and out of home in general only work with bulk-buying per month?

Not anymore! We're going to show you how the new normal and hourly buying on digital billboards go together like bread and butter for breakfast.


Digital Billboards & Hourly Buying FTW

Until recently, billboards have been the media channel that only big brands would buy into and for very good reasons. The way media buying was done on these channels meant that you had to pay a hefty per month per ad per billboard fee, which would have set you back quite a bit.

That has all changed. With the help of our own Blindspot tool, we liberalized the digital billboard market, making it possible for you to buy hourly slots, select your screens and quickly adapt to a fast-paced context.

And how does that actually help with keeping up with the pandemic changes?

It's just as we said before – we're doing micro-campaigns!

Being able to put up your content whenever and however you like it on the big screens, means that you only pay for that specific hourly slot, nothing more. This allows you to calibrate your budget and your content strategy to meet the constantly changing context of the pandemic, adapting your content and putting it out with new creatives as the context changes.


Does it still sound a bit fuzzy?

Let's take an actual example of something that we've done and show you how to leverage the power of contextual content and digital billboards above and beyond.

Recently, a huge public debate sparked over the Wallstreetbets Reddit channel and the hedge funders who were trying to take down GameStop for a profit, featuring the counter-strike of the Redditors. Not only that, trading brokers like Robinhood, halted the buying of Gamestop and AMC stock to stop the onslaught on the "poor" hedge funders. It's always good to take advantage of these emotional waves and use them for your own benefit.

Yeah, cool, but how do you mix that in with billboards?

Well, you buy a billboard. You make a kick-ass creative saying "GME stock goes BRRR" and you post it on Reddit. AND VOILA – it becomes the 2nd most upvoted post on Reddit of the whole time. No joke – here it is!

And this is how you viralize the hell out of a micro-campaign with less than $100 per hour.

Wait, what? Just a few dollars per hour?

You read just fine – right now, for about $100/hour will get you a screen like this one where you can micro-campaign with kick-ass, contextual content and promote your brand with maximum ROI.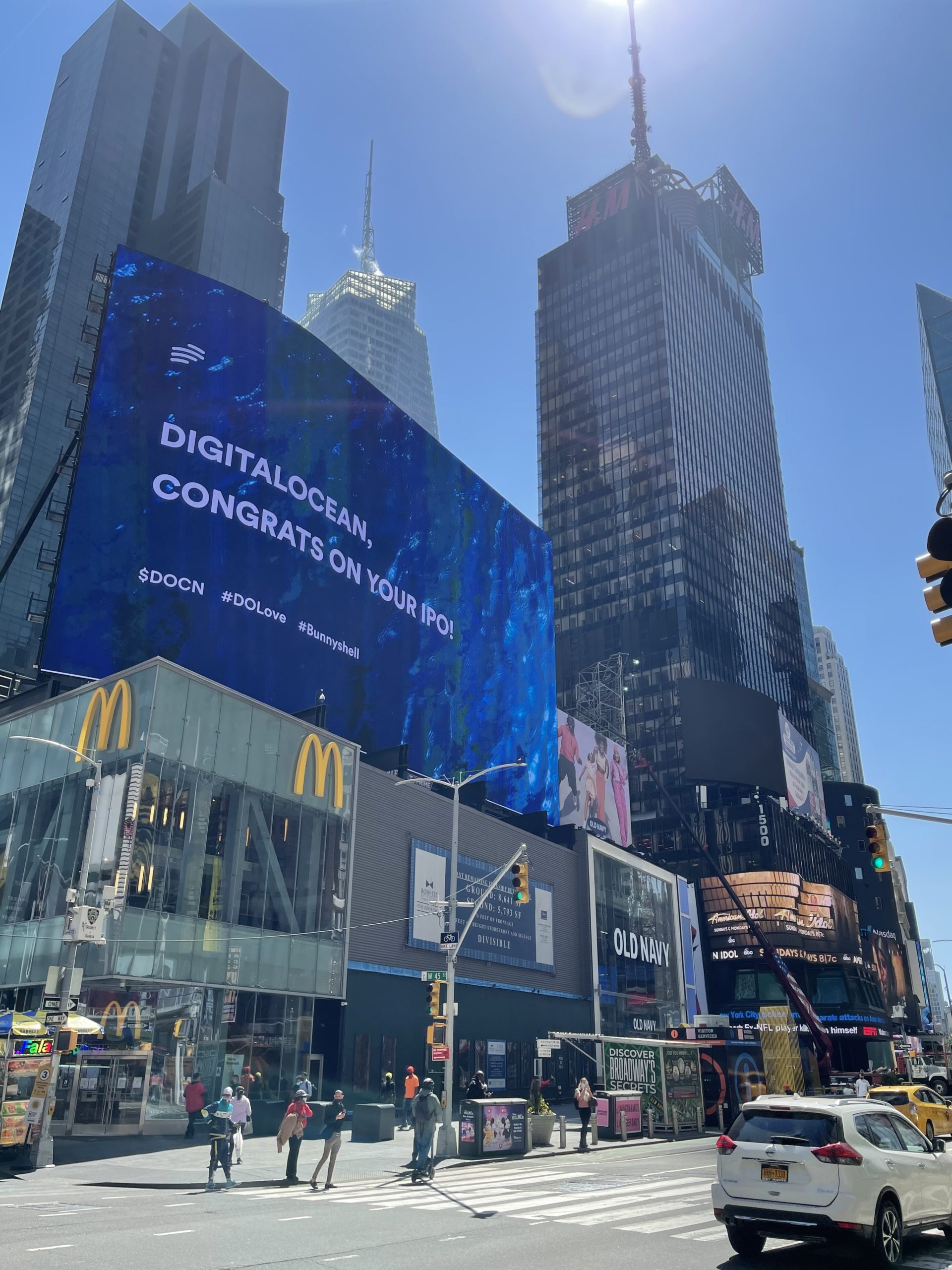 Bonus, you might also get some nice media features, like this one. If you want to see the full GameStop billboard story, watch this video!

Do it your way

It doesn't have to GameStop or AMC to put up on a billboard buy you can pretty much use hourly buying and dynamic content to match the fast-paced context of the pandemic and do some next-level branding.

If you want to hourly-buy your very own billboard, you can create a free account with Blindspot and start making hourly buying on billboards work some magic for your brand.